In these strange times we are living through, food is an element of life which people start to focus in on. The uncertainty of it all, the restaurants and small food businesses shutting their doors, the panic buying and long queues at the checkouts, it makes us all feel uneasy.
In these days, weeks and months, the emphasis of our collective relationship with food, more than ever, will be focused in on home cooking and what we already have in our store cupboards.
Being clever with using ingredients that are cost-effective and will last a long time will be at the forefront of people's minds.
It is not, however, a time to panic but rather to adjust. Our general ethos of eating seasonal and local food where possible might seem like a luxury, but now more than ever we should be looking at what we produce here, the people producing, distributing and selling Irish food and how we as consumers can support them whilst also getting the most out of what we buy.
This week we are focusing on onions, which are generally cheap, last a good amount of time and are grown here in Ireland pretty much all year round.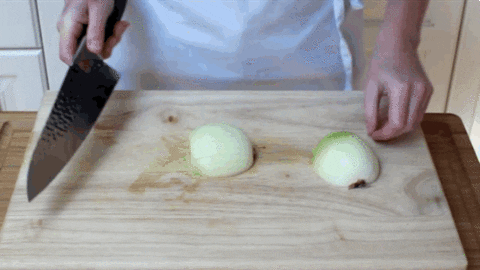 They are often called 'the poor man's meat' and are perhaps an undervalued item in our shopping baskets, but something very few of us ever omit from the weekly shop. It is almost instinctive to put a netted bag of brown onions in our baskets.
They are indispensable in the kitchen and also very nutritious. Onions can appear almost ubiquitously in pretty much any type of meal, any cuisine, unlike any other vegetable.
The three recipes we included here all use onions which have been sliced thinly and cooked slowly on the stovetop with lots of butter until they turn brown, sticky and sweet. We like the idea of cooking up a big batch of caramelized onions and using this in a couple of different recipes.
Caramelised onions
We start of this week's trio of recipes with this simple recipe for cooking down a large amount of onions to be used like we have, or in your own inventive ways. Batch cooking like this is great for making ingredients last longer.
Ingredients:
2 tbsp of olive oil
100g butter
Sea salt and black pepper
4-6 large onions, thinly sliced
75 mls of dry white wine
Method:
In a large, heavy-bottomed, casserole, saucepan or soup pot, heat the oil and butter over a medium heat. Add the onion to the pot and season with salt and pepper. Cook down the onions, stirring occasionally until the onions begin to soften.
As the onion cooks down, it will start to turn golden. Continue to cook until the onion starts to turn brown and stick to the bottom of the pan, stirring often and scraping the bottom to unstick any onion. After about 20 minutes add the white wine in three stages, cooking it down each time until evaporated.
The onions should be deep golden brown, very soft and sticky. Check for seasoning.
Quick Onion Soup
The labour of making an onion soup is enough to put anyone off, although the results are delicious it has to be said. We are not the type to make anything laborious very often, so this quick version of an onion soup made roughly in the Tuscan rather than French style is perfect.
It has all the deep, sweet savoury, cheesy delectability of any onion soup but can be made in half the time.
We use roughly half of the batch of caramelised onions along with the same amount of red onion which we cook down in the same way.
This recipe needs only a handful of ingredients and takes roughly an hour of pretty hands off cooking which is quick indeed for an onion soup.
The Tuscans usually add eggs but we prefer without.
Ingredients
500g medium red onions, sliced thinly
500g medium brown onions, sliced thinly (Or about half the batch of caramelised onions)
2 tbsp of olive oil
4 fresh sage leaves
1 litre of vegetable stock
150g parmesan, grated
Sea salt and black pepper
Method:
In a large heavy-bottomed pot or casserole, heat the oil and add the sliced red onions (or both red and brown if not using the batch cooked onions).
Season with salt and pepper and add the sage leaves, stirring regularly until the onions soften. At this point turn the heat down to medium low and sweat gently for around 20 to 30 minutes.
Add the stock and turn the heat up to medium high. Bring to a simmer and cook for a further 30 minutes.
Add the grated parmesan, stirring it through until it becomes all melted.
Check for seasoning and serve hot with crusty white bread.
Burnt Onion Butter
This is a delicious way to enjoy butter and enjoying butter is something we do very enthusiastically indeed.
The sweet caramelised onion and the charred smokey charcoaled onion are the perfect combination to spread on anything you can think of spreading butter on.
Ingredients:
125g good quality Irish butter
A pinch of salt
2 small onions, finely sliced (or around 1 tbsp of the batch of caramelised onions)
Method:
Leave the butter out to soften.
In a frying pan on a medium to low heat cook half the sliced onion in a little olive oil until golden brown and starting to stick to the pan, around 20 minutes. You can add more oil or water to the pan if it starts to become too dry or burn too easily.
Leave to cool.
Place the rest of the sliced onion on a baking parchment and put under the grill and cook until completely dry, black and burnt beyond recognition. Remove from the grill, tip the charred onion into a pestle and mortar and grind to a fine black powder.
In a bowl combine the butter, cooled caramelised onion and salt until well combined.
Mold into a ramekin and using a brush, gently dust the top with burnt onion dust until completely covered.
Place in the fridge to harden. Take out and spread on everything.