Achieving a perfectly balanced diet is more confusing than ever.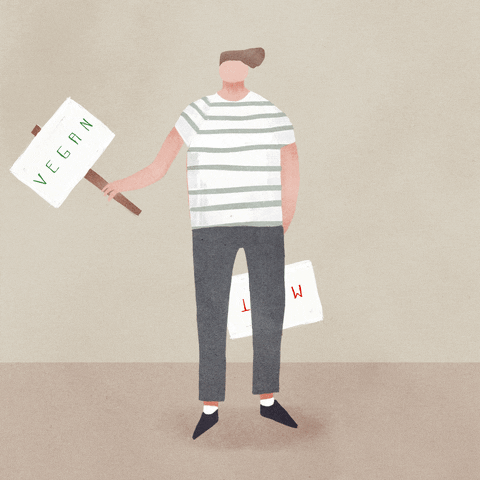 There was a time in Ireland when balance could have meant rashers for breakfast, a ham sandwich for lunch and a meaty stew for supper, so a modification to include a wide range of vegetable-rich meals is welcome. But the idea that vegetables alone can sustain us and the planet means huge acreage to feed the world, and once big companies become involved in production we need to be wary.
It's too glib to say vegan is a panacea for all our ills and the environment. Once farming becomes intensive, we run the risk of chemical intervention and could end up eating poor quality food, taking supplements and eating extruded and moulded vegetable protein such as soya to replace animal protein. This does little to excite the taste buds — part of healthy eating is its enjoyment.
The most interesting article I have read on the subject is at medium.com/@Tucker5law titled 'I think You'll Find It's a Bit More Complicated Than That…' Food experts Joanna Blythman and Zoe Harcombe are also worth consulting online.
A new fresh food collection service can be found at neighbourfood.ie for those who can't get to a nearby farmers' market.
For this page, I looked for tasty vegan dishes for busy days. There is well balanced take-away vegan food at Iyers, Pope's Quay and at 143v Lr Glanmire Road, Cork.
My Goodness Nachos €8
As the owner is Mexican, there is savoury Mexican rice and other influences with nacho cheez, salads, and kimchi de gallo, spiked with nachos. There is also tempeh, fermented soy which adds more protein and fibre to dishes than tofu and has much more flavour, less fat and is less processed. Made in house. Enough for two, great, delicious value. All tasters would buy it.
At English Market, Cork.
Rocket Man Brazilian chickpea & squash stew €7
With hot chilli spices, tasters loved this. Packed with flavour, the tomato base has chickpeas and butternut squash chunks topped with large fresh basil leaves for decent substance. On offer are toppings — my sliced almonds were perfect to add a crunchy texture. Delicious!
At Princes Street, and Douglas and Mahon Point farmers' markets, Cork.
Pink Moon vegan stew €8
Red onion, garlic, sweet red peppers, green beans, mangetout, chickpeas, passata, coconut milk, cumin, coriander, ginger and chilli flakes combine to make a rich, creamy, soupy stew with plenty of texture and lively, clean flavours – all appreciated by tasters. This café and takeaway does all vegan foods (cow's milk in good coffee, though) and has just opened at 23a Washington Street, Cork.
Natural Foods Bakery tortilla wrap €4.50
A decent sized cornmeal wrap filled with chickpeas and spinach could be enough for two. The wrap itself has good flavour and contrasts well with the juicy filling. Always proper wholefoods here, with flavour and heartiness combining well. Tasters were regulars at Paul Street and Blackrock, Cork.
Izz Café Maneesh €6.50
This looks like a pizza and the base is made from wheat flour, sunflower oil, salt sugar and yeast. The delicious topping has unfried falafel giving it a substantial bite which all tasters devoured, enjoying the deep flavours and texture. This Palestinian option makes an interesting change to regular pizza. Not all dishes are vegan, so be clear when ordering. I bought at Saturday Douglas Farmers' market.
Marks & Spencer Plant Kitchen cauliflower popcorn 225g €4.70
Small bite-sized cauliflower florets are coated in a crisp, egg-free batter made from a few flours, rapeseed oil and the stabiliser xanthan gum. The accompanying dip is made from maple syrup, chilli puree, vinegar, rapeseed oil, cornflour, garlic puree, salt, red peppers and cayenne pepper. Lots need to be added for a completely nutritious menu, but they make an interesting crunchy starter to a vegan meal.
Aldi The Deli beetroot burgers 230g €1.99
Two large burgers are made from 40% beetroot and 15% chickpeas delivering 3.2% protein (compared to approx. 12% in a beef burger). There are other vegetables too. Of all the non-meat burgers we tasted, this had the most flavour and a less dry, spongy texture, but not enough to convert carnivores. One taster has bought these a few times for lunch, but eats it with garlicy yogurt.
The Happy Pear Shepherdless Pie 400g €5
No shepherds or lamb were hurt in the making of this pie which is a vegetable mixture topped with mashed potato. A tomato-based sauce has lentils for bulk and rice milk and sunflower and rapeseed oils delivering a low 1.7% protein (6.8g per carton). There is polenta (cornmeal) in there too. Most tasters missed the meat but agreed it had good clean tastes and some flavour, and might have it for a change occasionally.