The problem with the coronavirus is trying to find someone you can believe.
I just read an article quoting Professor Mark Jit — a mathematical expert in the modelling of infectious diseases in London — saying it's not impossible that 60% of the population could be infected with coronavirus. 
He's not exactly pinning his colours to the mast, but it seems like there is a better-than-even chance that my family and I will catch it.
That's not as bad as it seems. Professor Chris Whitty is the chief medical officer in the UK, a widely trusted expert despite the fact that he's appeared in public with Boris Johnson. 
Prof Chris says that the mortality rate is about 1% of confirmed cases, and this rate drops significantly for younger people and those without underlying health issues.
So now comes the big question facing every parent: What is the correct amount of panic to apply to this situation? 
Or to put it another way: Should I try and empty all of Aldi into the back of my car?
At the moment, the answer is no. We're being a bit Irish about it in our house, where the mood is still 'we'll be grand'. 
The problem is that other people have already moved on from the 'we'll be grand' phase and are now somewhere between hoarding toilet paper and trying to buy a machine gun online.
I'm exaggerating here, but not much. If you doubt this, then tune into the radio. It's all getting a bit shouty. 
A few callers on a show yesterday sounded like they had taken parenting lessons from Helen Lovejoy on The Simpsons. 
Her favourite phrase was: 'Won't somebody please think of the children?'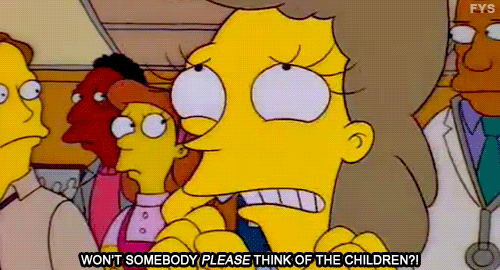 It basically says anyone who doesn't share my hysterical over-reaction doesn't care about their kids.
It's a sly way to get people to agree with you. And it works. Because I can't shake this niggling feeling that I should be panicking a bit more, to protect my own kids. 
My wife is further down the road than me. She said last night that is planning to do 'a big grocery' shop later today. 
I've seen the amount of stuff she brings home in a normal shop, so we could be looking at stacking tins of beans in the wardrobe here. (Just to be clear, this article is 70% tongue in cheek, according to experts. Please don't buy all the beans in your local supermarket when you finish reading it.)
There is another aspect to all of this. It's less about panic and more about dread. What if they close the schools for a period and we have to keep the kids at home?
I love my kids to bits, and I love spending time with them, particularly at the weekends when we can relax around each other. 
But things can get a bit cranky when we spend weeks on end around each other, and that's when we're on holidays.
It isn't all one way. The kids get sick of us as well. My son needs to find someone who shares his interest in 10 deadliest sea creatures; my daughter misses wrestling with the boys in her class.
I just read an article stating some schools in China have been closed for over a month because of the coronavirus. 
It's not such a huge issue in Hong Kong, where they are providing online classes for kids in primary school. (I'm not going to bother enquiring if they have facilities for that here in Ireland, because I'd end up embarrassing someone, probably myself.)
But according to one mother interviewed by The Guardian in Hong Kong, those online classes are no substitute for the banter her kids have with their buddies. 
She added that they have used the spare time to get their kids used to doing chores around the house. 
When all this is over, I might pay her to fly over here and show my kids how to tidy up the front room.
In the meantime, I look forward to a time in the near future when I'll be paraphrasing Helen Lovejoy: 'Won't somebody please give me a break from my children?'