As we face into a Mother's Day like never before, one dominated by Covid-19, Lindsay Woods reflects on parenthood in challenging times.
This much I have learned since I became a mother: that my expectations of same would be turned entirely on their head.
You can read all of the books, download all the apps, attend every single class aimed at you in your locality; pregnancy yoga, pregnancy basket weaving, pregnancy pottery, pregnancy 'How to build an entire nursery set-up from skirting boards', but nothing, and I mean nothing, will prepare you for the moment when your child is finally placed in your arms.
It is a curious mix of love, mild panic, profuse sweating and a rising sense of, "What do we do now?"
Answer? You muddle through as best you can.
To say I had some pre-conceived notions of how I would embody motherhood is an understatement.
To a degree, those thoughts are inevitable because we, ultimately, just want what is truly best for our children so it stands to reason that imposing certain ideals upon ourselves as to how we best raise them is a natural progression of this mindset.
Even now, I look back upon those years and I cannot help but crack a wry smile at the person I thought I had to be as a mother.
For the most part, that to me is what being a mother is about - not really knowing but trying nonetheless. It's being there when needed, to assuage fears and bat away worries; even when faced with our own rising panic surrounding global pandemics and ensuing lockdowns. It's about realising that no one has all of the answers when it comes to being a parent.
What follows are my experiences of the good, the bad and the 'What fresh hell is this?' of being a Mum so far.
Screen time
Many a parent has perished upon this blue-lit hill. I was one such individual. Whilst pregnant with my son, I harboured grand designs of educational play-times which did not feature a plethora of animated characters with a playlist of catchy tunes.
What do you mean, 'Did it hurt?'. Oh, when I fell from my high horse? Yes. Yes, it did.
Children, especially toddlers, are glorious beings of utter chaos. A whirlwind and symphony of total destruction. Therefore, my lofty ideals were quickly curtailed when I discovered my true saviour: Nanny Plum.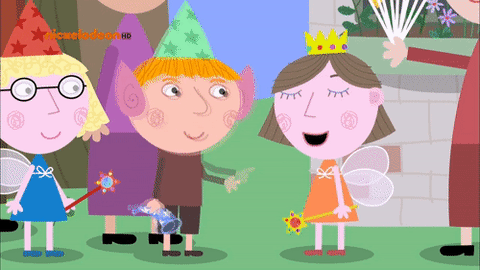 She was everything I was not; in my defence mainly due to the levels of exhaustion and not having an utter fig as to what I should actually be doing. She was authoritive, no-nonsense and pulled together with an uncanny knack for towing into line copious amounts of wayward elves and fairies.
My children adored her, as did I. It was not long until I employed her as my ally; "Oh, you don't want to finish your lunch? Well, then there's no way that I can put Ben and Holly on."
Even to this day, myself and Himself speak fondly of our affection for Big Bad Barry and that how truly he was just a misunderstood, oversized fish. Or, that he was merely pushed to the brink by his kids of which his storyline never alluded to.
Black leggings
It is best that you make peace with this wardrobe stalwart early on as you will spend the majority of the early years basically covered in various forms of fluid.
Once you accustom yourself to that way of thinking you can admire that pretty content for what it is — pretty content.
In the coming years, you can up your fash' credentials by adding a jaunty raincoat to combat the perpetual rain that forever accompanies school runs.
If you feel like you have a lost a sense of your style self when you have children; don't sweat it.
What is lost can always be found again if you so wish. Therefore, cut yourself some slack and don't fret about your current uniform.
Unsolicited advice
The sooner you learn to accept this for what it is (utter codswallop!), the better off you will be.
I work off of the premise that most people are inherently good and thus proffer such tomes with good intent. Everyone has an opinion on children; what they should eat, how they should be raised, education etc.
Take it all in with a hefty pinch of salt. Otherwise it will consume you and you will second guess each time your darling offspring so much as sneezes.
Multi-tasking
In the time that someone will take to tell you how busy they are, you will have made a dinner, navigated sets of homework, changed a nappy, renewed the car insurance and wormed the cat. All on about three to four hours of sleep.
You won't realise that you do these things nor give yourself any credit. There are days when you feel as if you achieve nothing when the reality is the exact opposite. Once more, this is when you need to cut yourself a good deal of slack. You're doing a good job; even if it feels as if you are not.
Never will it be more dominant than when at the deli counter in the supermarket.
If you think it's just your child… …it is definitely not
If I had a trolley token (you'll spend a small fortune purchasing same as you will never have that elusive one euro coin on your personage) for each time my then three year old had an absolute melter in Aisle 5 which measured a solid ten on the Richter scale of tantrums, then there would be free trollies for life for everyone.
I still remember an occasion at the checkout when on witnessing a little boy turn on the waterworks with an ever escalating tone of hysteria, I glanced at my daughter who was literally clutching her pearls with a look of incredulity plastered across her face, which was also littered with the debris of the bread roll she had decimated.
My narrowed eyes directed at her intoned the following,
There's no such thing as a Mary Poppins and Batman voice. That's just a meme. There is only the Batman voice.
There will be different ways to say that you love them.
There is pressure in the narrative that we should always wax lyrical as to how much we adore our children. But there are so many other ways beyond verbalising it that we, as parents, display which get overlooked because they are mundane everyday occurrences.
Making sure they wrap up warm, cutting the crusts from sandwiches, even though you detest waste, so they feel a little more secure at lunchtime, warming pyjamas on the rad post bath time… There is love in the doing, not just in the saying.
I remember fretting over their ability to open their lunchboxes when they first went to school. Which was a moot point considering if one in particular had any issues, she would not relay any; being of the School of Pure Mule you understand! I tortured myself over the opening and closing of lids, "Would they manage?" "What if they can't open it? They'll starve!"
Because that's something else you have to contend with when you become a mother, that sometimes logic escapes you. Particularly as you watch your first-born queue up, a little uncertainly, outside the door of their school on their first day.
So, what have I learned since becoming a mother?
A whole lot and yet not enough. I have learned that my relationships will change and alter, both with myself and those around me. I have learnt that there truly are 'Seasons of change' as you navigate parenthood. It is rewarding, challenging, exhausting, sometimes thankless, joyful and littered with such extreme highs and lows that you never thought you could possibly bear witness to.
That just when you think the sheer exhaustion has indeed bested you, that you somehow find the reserves to push on. But most of all, I know that if I was asked, "Would you do it all the same way again?", my answer would be a resounding, "Yes".