How can you not admire Michelle Obama? Ever graceful, thoughtful and intelligent, the lawyer and wife of former president Barack Obama appeared at the Southbank Centre, London on Tuesday to share her new memoir, Becoming – and of course, did it in style.
Speaking to Nigerian novelist Chimamanda Ngozi Adichie, author of Half Of A Yellow Sun, at the Royal Festival Hall, Obama – mother to Malia and Sasha, first African-American First Lady, role model, absolute queen – shared a glimpse into her life, the one behind the façade of the White House.
She discussed breaking royal protocol by hugging the Queen, loving peanut butter and her struggles with 'imposter syndrome' – all while wearing an incredible long-sleeved, v-neck white jumpsuit, cinched at the waist and with flattering, voluminous trousers.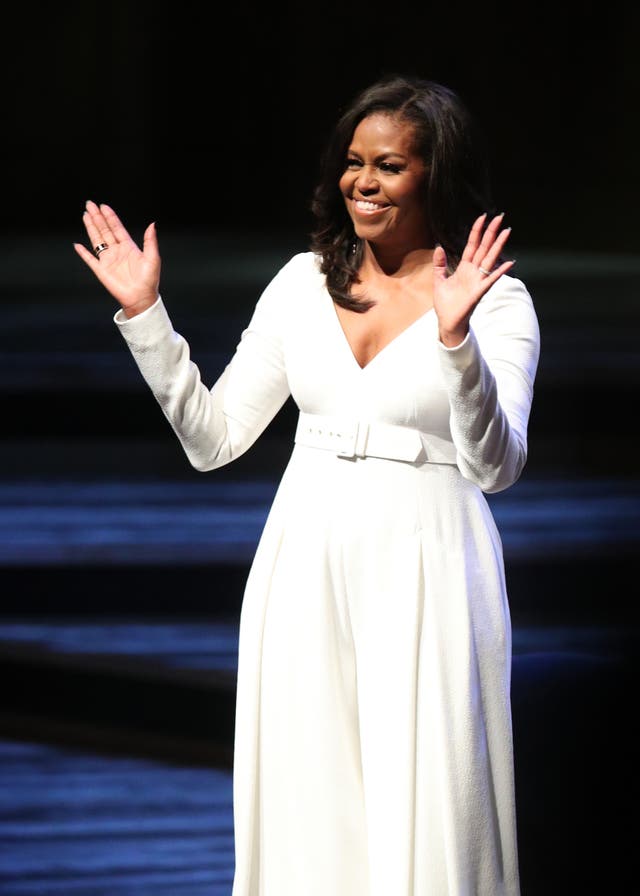 Wearing all white has become something of a sartorial theme for the former First Lady, particularly on this book tour.
From an all white trouser suit with pointed mesh white heels at a Becoming event in New York…
To a filmy white top paired with structured high waisted white slacks while being interviewed by Oprah in Obama's home city of Chicago…
And wearing a simple white toga top on the cover of the book itself…
There's arguably more to her decision to frequently dress head-to-toe in white than the fact it just looks great.
It's thought that dressing in white, for Obama, is also a simple, if subtle, show of female empowerment, as well as her support for female agency and suffrage.
Following her Southbank appearance, Fashion Round Table wrote on instagram: "Please note she is wearing white: as she has across this book tour. Why?
"White in the States is the colour of female suffrage and emancipation. Never underestimate the power of what we wear to communicate another layer of who we are and what we want to say."
Vogue has previously called white a colour that Obama has "consistently employed as a symbol of hope and female empowerment".
So, although it can be frustrating that there's often as much focus on what Obama wears as what she says, there's no denying she uses her fashion and colour choices to show strength, champion minority designers and make a statement. It's not frippery, it's sisterhood.
- Press Association