When it comes to London Fashion Week Burberry is always the Big One. It's the show everybody wants an invite to, the front row with the most famous faces and the best model line-up.
Today's show was quite literally huge, taking place in a cavernous former engineering works in west London, and was even more hyped than usual because it marked the departure of creative director and CEO Christopher Bailey, after 17 years.
The event was slightly marred by the appearance of anti-fur activists outside, chanting, "Shame, shame, shame on you," as guests arrived to view a collection which, it must be said, didn't feature any real fur at all.
But the protest was significantly more subdued that last season ("It turned violent last time – they were screaming at Tinie Tempah," I heard one security guard quip to another) and once you were inside, the shouts were drowned out by atmospheric classical music.
Extremely subdued lighting meant it wasn't easy to find your seat – or spot celebrities – but bursts of camera flashes signalled the arrival of Burberry's most famous fans. And what a lot of them there were, many wearing the brand's signature Nova Check or trench coats.
By the time the lights came up for the start of the show we had spotted – deep breath – Alexa Chung, Kate Moss, Naomi Campbell, Sienna Miller, Daphne Guinness, model Jourdan Dunn, actors Matt Smith and Domhnall Gleeson, British Vogue Editor Edward Enninful, the aforementioned Mr Tempah and, perhaps most surprising of all, Chelsea Clinton.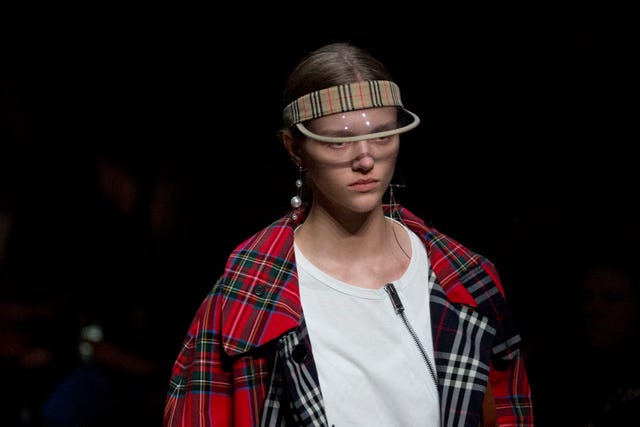 What did they witness on the catwalk? Bailey had already announced Rainbow Check, a colourful reworking of the heritage print, and plans to support three LGBTQ charities as he dedicated the show to 'inclusiveness and joy'.
"My final collection here at Burberry is dedicated to, and in support of, some of the best and brightest organisations supporting LGBTQ+ youth around the world. There has never been a more important time to say that in our diversity lies our strength, and our creativity," he wrote on Instagram.
It was no surprise, then, that the collection was a riot of rainbow colours, a joyous homage to youth culture. Fluffy coats, cagoules, oversized tracksuits, puffer jackets and hoodies all came in uber-bright hues – it looked like the models could stomp straight off the catwalk into Glastonbury circa 1986.
Model of the moment Adwoa Aboah opened proceedings in a pink faux fur jacket and Cara Delevingne took the final exit, looking like a hippy queen in a huge cape (rainbow coloured, of course) as The Communards' Don't Leave Me This Way rang out.
But it didn't end there. The house lights went down and two rows of laser beams shone from the middle of the catwalk, creating rainbow coloured curtains of light as the models returned for one last walk through before Bailey appeared and took a characteristically quick bow to the sound of rapturous applause.
The 47-year-old didn't duck backstage like he normally does though, and stayed to greet celebrity friends, being mobbed by fans and photographers in the process.
And why shouldn't he enjoy the adulation? After nearly two decades of critical and commercial success, Bailey deserves all the credit – this truly epic show was a fitting farewell.