It is 10 years since the enfant terrible of British fashion, Alexander McQueen, died, on February 11, 2010.
His eponymous fashion label is still going strong, and the brand posted a tribute to the designer on Instagram reading: "Remembering our friend, mentor and the founder of this house, Lee Alexander McQueen, who died 10 years ago today. His brave and beautiful spirit touches everything we do, always, and we miss him every day."
McQueen was one of the most decorated designers in British history before his death, aged 40. Born and raised in Lewisham, London, he had a background in tailoring before setting up his own hugely successful – albeit sometimes controversial – fashion label.
His impact continues to be felt. Here's how…
He turned fashion shows into performances
The 1990s was a time of fashion minimalism, but McQueen took an entirely different approach and turned his shows into huge spectacles. He wasn't afraid to lean into the dark and scary, and every season would take a theme and develop it into an unforgettable production.
Just take McQueen's AW 1999 show, inspired by horror movie The Shining. Models were seemingly trapped inside a giant plastic box, complete with snow and barren trees. The dark Victoriana look of the collection – mixed with futuristic elements – made the vibe even creepier.
Or what about his SS01 collection, where the set was transformed into an asylum? Models were bandaged up, the audience was surrounded by mirrors and the finale featured a glass box that shattered, to reveal a large, naked woman wearing a gas mask, decorated in moths.
Despite McQueen's dark, often creepy aesthetic, his clothes were oddly beautiful, and celebrated the female form with the help of precise tailoring.
He was one of the first to explore technology and fashion
Today, fashion and technology go hand-in-hand, but McQueen was one of the first to exploit the relationship between the two. He used tech to help make his shows even more spectacular – most famously during his SS99 show, where he put model Shalom Harlow on a rotating circle in a white dress, and had robotic arms spray her with paint.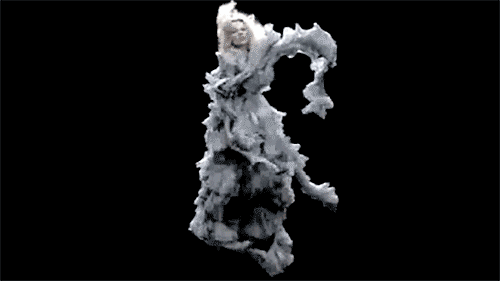 Of course, there was also the time he made a hologram of Kate Moss for his AW06 show.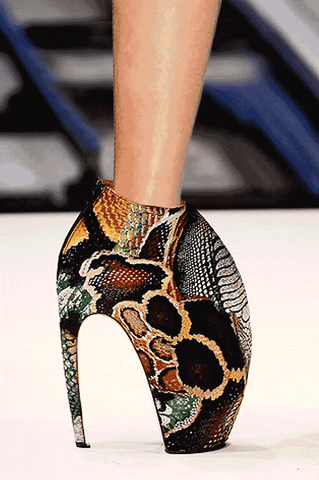 McQueen also experimented with techniques like laser cutting and was constantly innovating – just think of the vertiginous heels he created, which were soon adopted by the likes of Lady Gaga.
He wasn't afraid of controversy
McQueen was known for stirring up controversy wherever he could.
Take the now-infamous AW95 show, 'Highland Rape'. McQueen themed the show around the historical treatment of the Scottish by the English – although born in London, the designer had Scottish heritage – and featured models running down the catwalk with their clothes ripped and torn. It was a divisive show, with some thinking it made a strong political statement, and others arguing it glorified rape.
Even putting the theme to one side, the fashion itself was incredibly different to what was appearing on most catwalks in the mid-Nineties, with McQueen focusing on maximalism and drama. He also wasn't afraid of being gauche – after all, he was responsible for 'bumsters'; trousers slung so low your bum cleavage is visible.
Despite being a renegade, McQueen was still named creative director of storied French fashion house Givenchy, where he worked alongside his own label from 1996 to 2001.
His designs are still red carpet favourites
Fashion might be obsessed with the new, but there's a growing trend for rewearing archival outfits – in the name of the environment, but also to showcase your fashion know-how.
Kim Kardashian West dipped into his archives for the post-Oscars Vanity Fair party, wearing the 'oyster dress' from the designer's SS03 collection; a romantic, corseted, ruffled outfit made using silk and tulle.
The house lives on through Sarah Burton
McQueen was so unique, people were unsure whether his label would survive his death. However, Sarah Burton – who worked with McQueen from the late Nineties and was his head of womenswear – was named his successor.
She's managed to make the brand her own while staying true to her predecessor's central tenets of craftsmanship, interesting historical references and gender fluidity. Burton has been hugely successful at the helm of the brand, designing the Duchess of Cambridge's wedding dress in 2011, and rarely a red carpet event goes by without someone wearing an Alexander McQueen creation.