Benefits of alpine plants scale new heights for Peter Dowdall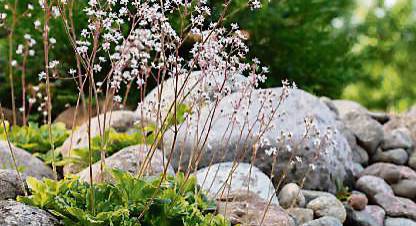 A great way to include a lot of plant in your garden, no matter how small, is by using alpine plants. What we refer to as alpine plants is any plant which likes to grow in a sharply drained soil and stays quite low and normally spreading. That's not the technical definition of an alpine but that's for another day.
These are a group of plants that I fell in love with at a young age and plants, as with all aspects of life come in and out of vogue. When I was younger, I was becoming mildly obsessed with alpine and rock garden plants and though I never went "off" them as such, my obsession certainly diminished somewhat but now I find myself becoming more and more aware of them once more.
I think one of the things which is most appealing about them is that you can see them in their entirety instantly, unlike a tree or large shrub where you may only see parts of it at a time.
Alpine beauties, grown well, make you want to touch them, to perhaps rub them.
There are so many reasons to grow and to love alpines. Yes, they are small, taking up little space in even the smallest of gardens allowing you to grow many plants which keeps the interest going but they are also full of colour and charm. Whilst a pot full of summer bedding colour has its own beauty, why not try, even a small trough this year planted with small alpines. What it may lack in flouncy colour it will make up for in texture, character and life.
If you haven't tried your hand at growing alpines before then let me suggest a few to start you off.
You could be forgiven for not looking further than Saxifragas, such is the range of different types included in this genus. Saxifraga translates from Latin roughly as "stone breaker" but they could be better described as stone huggers.
Some species such as Saxifraga hypnoides or the Mossy Saxifraga are native to Ireland. These, hug the ground like living carpets growing slowly over whatever lies in front. Impossible not to walk past a well-grown mossy saxifrage without wanting to put your hand on it and touch it. There's that appeal to all the senses again. It is little things like this in the garden where the strong attraction to touch, taste, or smell that makes the garden such a place of wonder.
The mossy Saxifraga grows to about 15cm in height with a possible spread of 100cm or more but I would suggest you keep the clump more in control as it can be prone to get ragged-looking if left to grow unchecked. There are many varieties readily available to grow. 'Peter Pan' is a nice red flowering variety and 'White Pixie' a particularly nice compact white flowering form.
The "encrusted" types are not just all about the flower as the rosettes of foliage seem to nearly sparkle in the sunlight meaning that, for me, even if they never flowered they would be worth a place in my garden, for foliage colour and texture alone, but boy do they flower. Some of the encrusted varieties are very difficult to source as they are monocarpic, meaning that they will die after flowering and producing seed. Of the more widely available forms 'Lisadelle' and 'Southside Seedling' are really spectacular in flower.
Another few to try are Aubrieta, Campanula muralis, Alyssum saxatile, Lithodora, Gentiana, Sempervivum, and Lewisia. A good selection will mean a wide variety of foliage types and a long flowering period. Do remember that all alpine plants require extremely well-drained soil, they will not tolerate sitting in waterlogged soil, perhaps not even for one day. Incorporating horticultural grade grit to your soil will help with drainage. Growing in containers such as troughs or even, raised, Alpine Beds means that you completely control the soil structure and pH so you can create the perfect conditions for growing these alpine delights.
If you find yourself becoming absorbed by these beauties and you spend your days seeking out more and more unusual treasures then rest assured you are not alone.
There are several groups of like-minded people who meet regularly and organise great talks and demos along with some great garden visits and galas. At any of the talks and events organised you will meet kindred spirits and you will also find plants which are unavailable through mainstream sources.
Check out Cork Alpine Hardy Plant Society's website at irishgardenplantsociety.com/tag/cork-alpine-and-hardy-plant-society to the Alpine Garden Society website: alpinegardensociety.ie