John C Reilly returns as Ralph in a film that will appeal to adults and children alike, writes Esther McCarthy.
Wreck-it Ralph, the tale of a video-game villain who dreams of being a hero, was a bona fide hit for Disney and spawned the inevitable sequel. The good news is that Ralph Breaks the Internet is even wittier and more charming than its predecessor as John C Reilly's Ralph and his best pal, Sarah Silverman's Vanellope, riff off each other to delightful effect.
A good deal of the movie's magic comes down to its voice stars recording their parts together — a rare practice, according to directors Rich Moore and Phil Johnston. The filmmakers also encouraged Silverman and Reilly to improvise their lines.
"We can dance around and help the improvisation, but it really takes two committed performers, I think, to say, 'All right we're going to do this and we are going to play'," says Johnston. "Acting is reacting and if you have no one to react to, improvisation is very difficult, I think."
"The audience is going because they want to know what it's like to see John C Reilly and Sarah Silverman working together and they're not getting that chemistry if they're being recorded in two separate sessions," adds Moore. 
"It's a mystery to me why it's not done more. It's the most fun."
The movie features a cheekily funny central scene where Vanellope meets a group of the most iconic
princesses in Disney's history, including Snow White and The Little Mermaid's Ariel. They bemoan the fact that they have to rely on men to solve their problems before swapping their princess dresses for Vanellope-style t-shirts and pants.
It's a sequence which gently spoofs the studio's own history.
"Rather than taking the pages of a script and going to the powers that be, we went ahead and made a rough animatic of the scene," says Moore.
"We knew that we were tampering in God's domain, so to speak! How will this be received? We built it and the response was great. We were encouraged. There was nothing but support for the scene. It was a very labour-intensive scene, but everyone saw the value of it."
SIMPSONS EPISODES
Moore, who dreamed of being an animator as a child, worked on many episodes of The Simpsons before winning an Oscar for Zootopia, which claimed best animated feature in 2017. He credits his older brother with pushing him to follow his ambitions.
"My town was small and there was no practical guidance that anyone could have given me. It was an anomaly of this kid that wanted to work in animation.
"I hit a point as a teenager when the dream felt impossible. There was no path to get to where I wanted to go. I was working in the shoe department of a store, stocking shoes, and I got to the point where I felt, 'This is not a bad job'. It really was my older brother who said: 'What are you doing?' He gave me that kick in the bottom to get me back on line.
"Then with something like The Simpsons, it was, 'I get this. This is exactly what I like. This is a fusion of all those little touchstones that I love', and I was able to dive into that at a pretty young age, at 25, with not a lot of
experience other than making student films in college. No one was making anything like that at the time and I was given a great opportunity."
When the filmmakers first approached John C Reilly to bring his rich, distinctive voice to the character of Ralph, he agreed — if he could record his scenes with his co-stars rather than alone. It was a no-brainer as far as he was concerned.
He also arranged to spend time with the animators. "I went in on the first one and did movement studies with them on video. The character really reminds me of some of those older uncles of mine who used to play American football, these hulking guys sidled up at the bar, with these big bellies and barrelled chests.
"I went into the animators and shared some ideas, moved around, and they loved it. It was fun for me, too — it made me feel even more connected to the project."
VERSATILE ACTOR
Over the years, Reilly has developed a reputation for mixing up the dramatic (Gangs of New York, We Need to Talk About Kevin) with the comedic (Step Brothers). Varying and choosing his projects carefully is paramount to him, he agrees.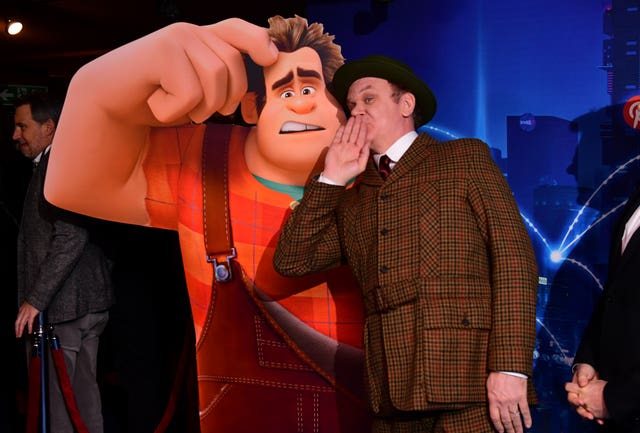 "As a business, the film business wants to succeed, and so if you've succeeded at something they'll want you to do that again because they want to succeed again. That's just something every actor has to manage, how much they're willing to repeat themselves.
"I personally don't like to repeat myself at all, but to tell you the truth, the real way a lot of actors are stereotyped is by the audience. They want you to be this thing that they've come to believe about you. For
whatever reason, I'm really grateful of this, I've done the craziest variety of things and audiences are willing, I think because I try to have really good quality control. If I do something I really believe in it and I try to do the very best I can with it.
Growing up among Irish/American family in south Chicago, Reilly was in college before he decided to pursue an acting career.
"It was a very working-class neighbourhood where I came from, very practical people. There weren't a lot of aesthetes running around. But I managed to find my way as a creative artist in that world anyway, I think because of the support, encouragement, and enthusiasm of my parents. I was lucky enough to find musical theatre and community theatre and all that stuff.
"That said, it wasn't until I finished university that I really decided to try to make a living as an actor. Up until that time, I thought it was something that was fun to do, and something I would have to find a job in order to support.
"Then one day it just occurred to me: Wait a minute, this could be my job. It was almost too audacious to even dream that when I was a kid. But I'm really glad with how it's worked out."
Ralph Breaks the Internet opens on Friday