Forced to stay at home (with very good reason), many of us are turning to more timeworn activities to fill the gaps left when socialising in real life is cancelled.
Puzzles, Zoom quizzes, baking and gardening have shot to the top of the agenda, because if you're stuck looking out the window, you might as well watch some seedlings sucking up the daylight too, knowing you'll eventually get a meal out of them.
If you too have turned to growing your own for a little comfort and satisfaction – as well as something to do – you might just recognise yourself in these…
1. Your front garden used to be a wasteland of concrete drive and rogue dandelions, but since lockdown, the spades have been out, the paving slabs ditched, and you've gone DIY veg-bed crazy.
2. You are dreading the moment you run out of seed packets – online seed libraries are largely sold out, the supermarkets aren't really stocking them. You realise the only way is to start harvesting your own from existing tomatoes and chillies in your veg drawer. You feel all-powerful.
3. Social media used to be where you went for news, sport and entertainment, now gardening content is all you want. You have entered the gentle world of green-fingered people, where everyone is kind and supportive, and full of advice.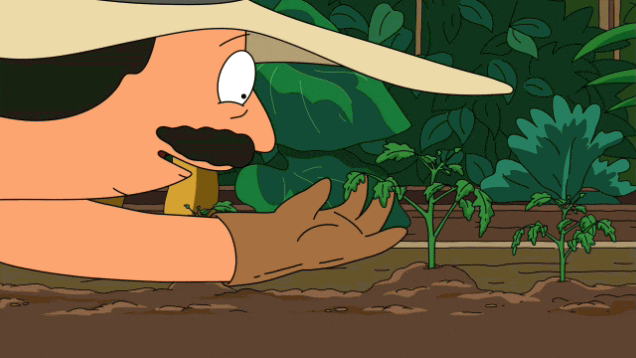 4. Emotionally, you're all over the place. But watering seedlings makes everything else going on just recede into the background. It's basically meditation. Also, you can't help talking to your plants. It's unavoidable.
5. Nothing is going to waste from the weekly shop. Tomato and chickpea cans are being repurposed as plant pots for basil seeds and cress; plastic mushroom tubs are being topped up with soil and rocket; yoghurt pots are now radish sanctuaries. You may never need to fill the recycling bin up ever again.
6. You suddenly start looking at the ends of cabbages and lettuces and wondering, can I resurrect this? Because guys, you really can – just stick them in a shallow tray of water and they SPROUT NEW LEAVES. Your brain is now full of ideas like this.
7. Posting daily updates on your 'babies' via social media has become the norm, even though your seedlings barely change day-to-day – until all of a sudden they do! And then you totally lose your mind. Nasturtium seeds just explode from the soil; courgettes and squashes seemingly double in size every time you turn around; pea shoots are the prettiest things you've ever seen – and you need to tell EVERYONE.
8. A subscription to Gardener's World Magazine now seems essential. As does watching the programme on a Friday night. Monty Don is your new hero. The old you would never have understood.
9. You wish you had paid more attention to everything your grandparents told you as they dragged you round their allotment/veg patch when you were tiny. Most of the time, you feel like you have no idea what you're doing, and then a new shoot emerges and you feel amazing. How did it take this nightmare scenario for you to care about this stuff?
10. You never thought you'd find yourself hoping for rain, but you'd sacrifice the tan you've picked up hoeing your berry patch in a second for a bit of drizzle – your plants are thirsty.
11. There is nothing better than making dinner with herbs you grew, and salad leaves you reared from seed. Sure, you're not going to be self-sustainable any time soon, but the odd tomato or handful of beetroot over the summer is quite an achievement.