Michael D Higgins has hailed Irish suffragettes and the contribution of Irish women which has been "deliberately eschewed from history".
The President made the remarks as he unveiled a commemorative plaque in honour of women's rights activist Hanna Sheehy Skeffington.
The plaque, at the Ship Street Great entrance to Dublin Castle, marks the spot where in 1912, Skeffington smashed windows in the castle in protest against votes for women being excluded from the Home Rule Bill for Ireland.
The President, along with his wife Sabina and Lord Mayor of Dublin Micheal Mac Donncha, met members of Skeffington's family, including her granddaughter, and great granddaughters to celebrate the "heroic" suffragette.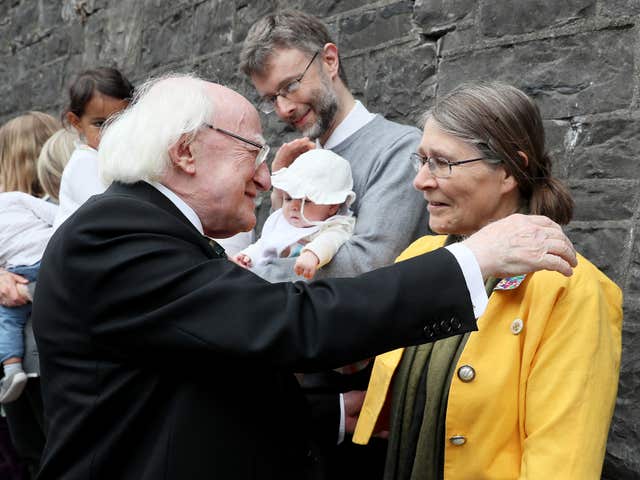 The President said: "For far too long the historical contribution of Irish women in the struggle for emancipation, independence and equality has been overlooked, and may I suggest, deliberately eschewed in a narrow historiography, one with militaristic bias that could easily carry a chauvinistic bias.
"In spite of the promises of the Proclamation, a difficult and long march for equality lay ahead for women, one marked by many setbacks and defeats in a society which, as you all know so well, yielded slowly and painfully to change.
"Today, the struggle to create a truly just, inclusive republic of equal citizens continues and we are reminded that if we can summon the same courage as those women of 100 years ago, it is a struggle that we can win."
Hanna's granddaughter Micheline Sheehy Skeffington said: "We wanted to honour not only my grandmother's actions in the centenary year, but all the women who were involved in the campaign for women's rights.
"Hanna herself would've said 'It's not just about me', so today, she gets the plaque but we honour all the women who took part in the campaign.
"It's very heartening to see what's happening in Ireland recently, and I believe my grandmother would've absolutely supported the last two referendums in Ireland, she believed that the vote was just a symbol, and until we get rid of the taboos, social and political or otherwise, we have not got equality."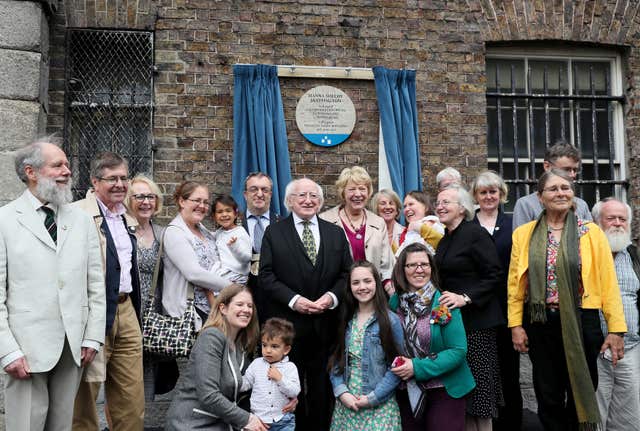 "We still have a way to go but it's great to honour them today and have state recognition for Hanna's actions."
Skeffington and her husband Frank were lifelong campaigners for feminism and socialism.
In 1908, she formed the Irish Women's Franchise League (IWFL), an independent, non-aligned, and militant group which by 1912 was the largest suffrage group in Ireland.
To honour the part played by other Irish Suffragettes, a list of all the Irish women imprisoned for suffrage activities was read aloud by members of the Galway Feminist Collective at the unveiling.
- Press Association