Women from Northern Ireland could be able to have abortions in the Republic of Ireland when the new laws are introduced, the Taoiseach has said.
Leo Varadkar said he could not imagine why women from Northern Ireland would not be able to receive treatment for crisis pregnancies, when Northern Irish people can already access healthcare in the Republic.
The Taoiseach made the comments as UK Prime Minister Theresa May comes under increasing pressure to make changes following the resounding Yes vote.
Hundreds of pro-choice activists vowed to hit Northern Ireland like a "seismic wave" as they stepped up their bid for change with a rally in Belfast on Monday.
Abortions are outlawed in nearly all cases in Northern Ireland. Once legislation is passed in the Republic of Ireland, Northern Ireland will be the only part of the UK or Ireland where prohibition is maintained.
"We do have people who already come to our hospitals from Northern Ireland for healthcare so I imagine it will be treated as a normal part of our health service," Mr Varadkar said.
But he added it would have to be examined as legislators draft a bill in the coming months.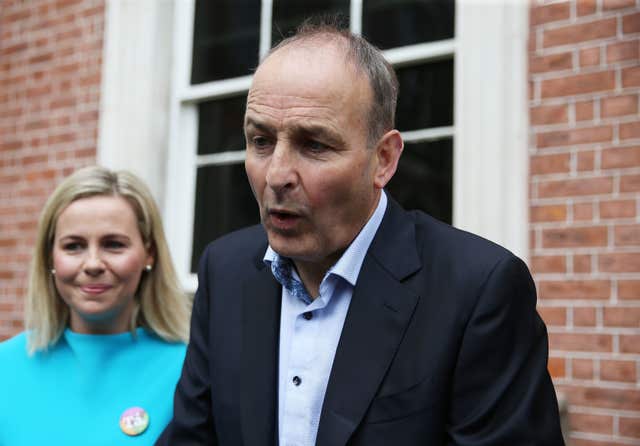 Fianna Fáil leader Micheál Martin called on the Government to ensure women in Northern Ireland can access abortion services in GP surgeries and hospitals here.
"It's our obligation and mandate to ensure the passage of this legislation because of the urgency of the issue for many women in our society," Mr Martin said.
Sinn Féin leader Mary Lou McDonald said the issue is very important as Brexit is looming.
Mr Varadkar told the Dáil today the Government wanted to legislate for abortion in Ireland as quickly as possible.
But he said it should not be rushed because some people do not accept the referendum result and may legally challenge the legislation.
Mr Varadkar said it is likely to be January before the Dáil will be able to give full effect to the will of the people.
The Royal College of Obstetricians and Gynaecologists (RCog) said women in Northern Ireland should be able to access abortion care services within their own country.
RCog president Professor Lesley Regan said following the referendum outcome women in Northern Ireland now face one of the most restrictive abortion laws in the world.
"The current legal situation means healthcare professionals in Northern Ireland struggle to provide support for women requesting an abortion or safely manage any post-abortion complications," Prof. Regan said.
"We recognise that this is a highly politicised issue but the current situation is unacceptable and leaves doctors, nurses and midwives working in a precarious legal vacuum in this core part of women's sexual and reproductive healthcare."
She added that while the decision by the English and Scottish Governments to fund abortions on the NHS for women from Northern Ireland was an important step forward, it remained unacceptable that these women must travel overseas when faced with an unwanted pregnancy.
- Press Association