The Good Friday Agreement is not up for negotiation, Leo Varadkar has said, after DUP leader Arlene Foster claimed the peace deal was not sacrosanct.
Taoiseach Leo Varadkar said the 1998 accord between the UK and Irish Governments cannot be changed by one political party or one government.
His comments come after Mrs Foster suggested the terms of the agreement could be altered in efforts to strike an EU exit deal.
Mr Varadkar, however, said the Good Friday Agreement (GFA) was not up for negotiation in the Brexit talks.
Speaking in the Dáil today, the Fine Gael leader said: "The government stands by the GFA and we will defend its primacy.

"We see our role as the Irish government as the co-defenders of that agreement.

"It is not a piece of British legislation, it is an international agreement between the British and Irish governments, as well as a multi-party agreement among the various parties.

"While it may be factually correct to say that the Good Friday Agreement, just like any international treaty, could be changed, it can only be changed with the agreement of British and Irish governments and can only be changed with the consent of the people of Northern Ireland and indeed across cross-community consent.

"It is not something that can be changed by any one political party or by any one government.

"It is certainly, as far as this government is concerned, the Good Friday Agreement is not up for negotiation in these talks over Brexit."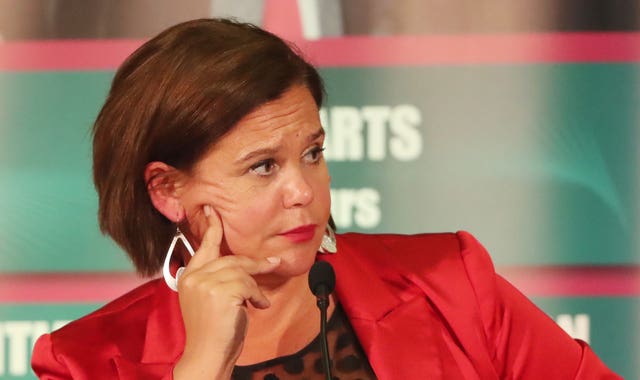 Critics of Brexit in Ireland have warned of its potential to undermine aspects of the international treaty, including its provisions for cross-border co-operation and rights protections.
The DUP campaigned against the Good Friday Agreement when it was resoundingly endorsed in referenda on both sides of the border in 1998.
Elements of the deal have been altered by subsequent political agreements in Northern Ireland, such as the 2006 St Andrews Agreement.
In an interview with the Daily Telegraph, Mrs Foster said: "It has been deeply frustrating to hear people who voted Remain and in Europe talk about Northern Ireland as though we can't touch the Belfast Agreement. Things evolve, even in the EU context.

"There has been a lot of misinterpretation, holding it up as a sacrosanct piece of legislation."

Mr Varadkar's comments come after Sinn Fein president Mary Lou McDonald accused the DUP leader of using "dangerous and reprehensible" comments about the GFA.

Speaking in the Dail, she said: "They reveal a reckless disregard for the peace process, for prosperity and for progress."
The latest row between the DUP and Sinn Fein comes amid the ongoing political impasse in Northern Ireland following the collapse of the powersharing institutions in early 2017.

"The Good Friday Agreement was endorsed by the vast majority of people north and south," said the Sinn Fein president.

"It is the people's agreement and not a chip to be bargained with as part of any Tory/DUP Brexit deal.

"Brexit is incompatible with the Good Friday Agreement. The actions of the DUP and their deal with the Tories is bad for our economy and undermines the rights of citizens.

"The DUP should commit to the full implementation of the Good Friday, and other agreements, rather than seeking to undermine them.

"This would unlock the pathway to re-establishing the political institutions and safeguarding the interests of all the people in the north."

The Good Friday Agreement (also known as the Belfast Agreement) enshrines the "consent principle" that Northern Ireland's position within the UK can only change if a majority of the region's citizens vote for it.

Ulster Unionist Party leader Robin Swann claimed Mrs Foster's comments potentially undermined that principle.

"Arlene Foster's comments on the Belfast Agreement are strategically shortsighted," he said.

"The DUP may have been happy to corrupt the 1998 agreement for their own ends at St Andrews, but I cannot believe the DUP leader has been so careless as to throw it open in such a haphazard way which is of no benefit to unionism.

"The reality is that the principle of consent is what binds us to the United Kingdom, it is the best settlement for unionists and should be sacrosanct."

Tánaiste Simon Coveney called Mrs Foster's comments "wrong".

He tweeted: "I have respect for Arlene, but she is wrong on this. GFA was voted for by overwhelming majority in NI & IRL, has helped to end violence + provided for the most prolonged period of peace+stability in NI's history. We will defend+ protect it through #Brexit."

- Press Association