Northern Ireland's two largest parties once again blamed each other for Stormont's powersharing impasse as the region passed an unwelcome milestone for non-governance.
Today marked 589 days since the Democratic Unionist and Sinn Fein-led powersharing executive collapsed – passing Belgium for the world's longest peacetime period without a properly functioning government.
While Northern Ireland will avoid an embarrassing entry in the Guinness Book of World Records – the Stormont stalemate was ruled ineligible as it only relates to a devolved administration – angry members of the public organised a series of public protests to mark the day.
The #wedeservebetter events were arranged for more than a dozen cities and towns across the region on Tuesday evening, though organisers were forced to cancel the main rally outside City Hall at late notice due to a major fire at a nearby shop.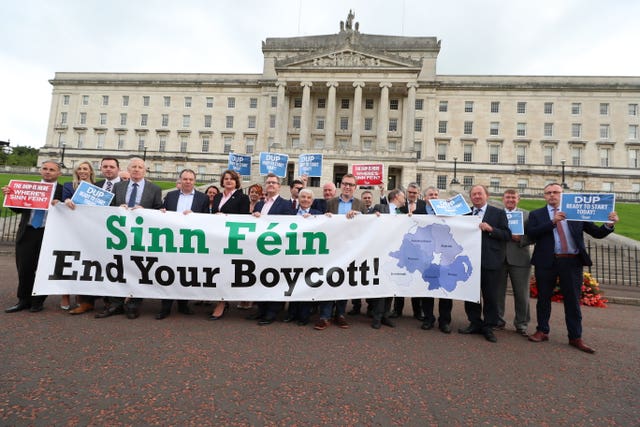 The executive imploded in January 2017 amid a bitter row between the Democratic Unionists and Sinn Fein over a botched renewable energy scheme.
The rift widened to take in other more tradition disputes – such as the Irish language – and the parties remain at loggerheads, with no prospect of an imminent breakthrough on the horizon.
While there has been speculation over a new round of negotiations for the autumn, no date has publicly been announced.
The DUP marked the milestone by unfurling a banner outside Stormont calling on Sinn Fein to end its "boycott" on governing.
Party leader Arlene Foster said she shared the frustration of the wider public.
"There is only one problem party and let's call it out – that's Sinn Fein," she said. "And they need to end their boycott here in Northern Ireland.
"I share the frustrations of many today that we don't have a government here taking decisions on education and on health, on infrastructure and on the future of this country itself.
"So it's time to get back into government – long past the time to get back into government."
Mrs Foster repeated her call for government to be restored while a parallel process to resolve outstanding issues is run.
Sinn Fein's Conor Murphy said the party was dedicated to getting the institutions up and running on a "proper basis".
The republican party has accused the DUP of blocking "rights-based" concessions, such as protections for Irish language speakers, the introduction of same-sex marriage and the release of additional funds for historic inquests on killings carried out by the security forces.
Mr Murphy, who rejected the notion of a parallel approach, said the DUP had not been in contact with his party for weeks and engagement prior to that over the summer had been minimal.
"Those rights issues will continue to have to be addressed, they are still here, they are still part of the reason why this institution collapsed, they are going to have to be addressed," he said.
"We are a party of dialogue, we want to engage with other political parties and both governments to ensure these institutions are restored, but we will not be doing it on the basis of the denial of people's rights."
Referring to the DUP's banner, Mr Murphy added: "It would suit them better to carry a banner in a Pride parade supporting the rights of those people, than to be waving a banner out the front of this building."
Mr Murphy said his party did not have enough trust in the DUP to go back into government on just a promise the other issues will be dealt with on the side.
"We are supposed to take on trust that we'll set these institutions up and all will be well within a couple of weeks?" he said. "I'm afraid they have no track record of that."
Ulster Unionist leader Robin Swann was in a downbeat mood as he commented on the 589-day milestone.
He said he believed "neither of the two big parties want to come back this side of Brexit".
"It's completely embarrassing," Mr Swann said.
"It embarrassing for us as politicians and it's embarrassing for Northern Ireland.
"The DUP are blaming Sinn Fein and Sinn Fein are blaming the DUP and, at the end of the day, it's the people of Northern Ireland that are suffering."
He added: "I think Northern Ireland is utterly despairing at this minute in time – they are disgusted, they are embarrassed at the failure of the two large parties to be able to pull together a government at this minute in time that can actually take decisions."
Mr Swann called on Secretary of State Karen Bradley to either convene immediate talks or move to introduce direct rule without further delay.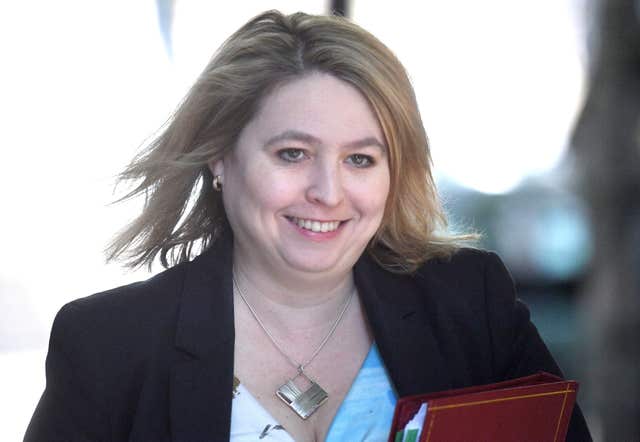 "This drift has gone on for far too long," he added. "The politics of protest and placards isn't serving anybody at this point in time."
A spokeswoman for Mrs Bradley said: "The Secretary of State is acutely aware of the deep frustration and difficulties faced by the people of Northern Ireland and the urgent need to resolve the current impasse.
"She shares the firm view that the current situation cannot be allowed to continue and is working on options to ensure the good governance of Northern Ireland.
"The UK Government's priority is to secure a basis for political talks and re-establish a locally elected, democratically accountable devolved government at the earliest opportunity.
"In the absence of an Executive, the Secretary of State continues to take the necessary decisions to protect the interests of Northern Ireland and ensure stable public finances, demonstrated by the recent Budget Act."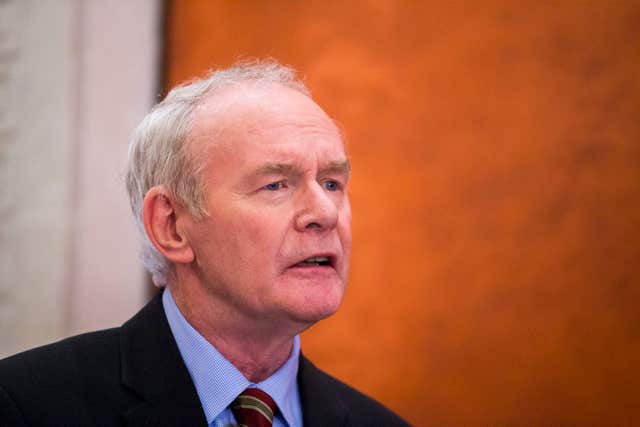 The crisis was triggered on January 9 2017 when the late Sinn Fein deputy first minister Martin McGuinness quit.
The executive collapsed one week later – on January 16 – when the deadline for Sinn Fein to nominate a new minister expired.
Today marked 589 days since the latter date.
Belgium was without a properly functioning government for 589 days when Prime Minister Yves Leterme quit in April 2010, and it went 541 days without any government at all when a new administration was not formed after a subsequent election in June 2010.
Guinness uses the 541-day timeframe for measuring the world record.
In Northern Ireland, the administration limped on without a first or deputy first minister until March 2 2017 – when a snap Assembly election was held.
Using the measure of the time without any government at all, Northern Ireland passed 541 days last Friday, on August 24.
- Press Association