Sinead O' Connor has revealed on her blog that she was axed from performing at this year's American Music Awards as the Pope wouldn't duet with her.
The AMA's had asked Sinead to perform a mash-up of 'Nothing Compares 2 U' and 'Take Me To Church' at this year's ceremony.
After hearing nothing for six weeks, the 47-year-old's team got in contact with bosses at the AMA's production company - Dick Clarke Productions - who told her they would still like her to be on the show but only if Pope Francis took part.
Yes, you read right … The Pope.
We're not sure if they remember this incident involving one of his predecessor Pope John Paul II?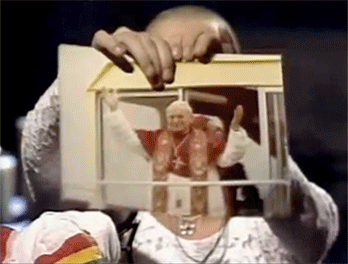 The executives told her that they tried to get in contact with the Pope through his Twitter account but he had not yet replied.
"It was decided that [they] would (in all seriousness) attempt to contact the Pope via his Twitter account alone, and via no other means," Sinead wrote.
"Did you ever hear of such 'Dickery' in your life?"
She also went on to say that even if the team had contacted The Vatican properly - via phone/email - their idea was extremely disrespectful.
"The idea he ought to consider lowering his feet into the disgusting world of show business and celebrity at all! Never mind with Sinead O'Connor."
Sinead then asked the executive how they envisioned The Pope partaking the show, "So, what, like, was Pope Francis to take verse two and we harmonise on the bridge?
Which of us was to do the 'Oh-Oh-Oh-Oh-Oh's?" in which he replied ""No. The idea was Pope Francis would introduce you"
We are simply lost for words.