Actress Joanna Lumley is to be honoured with a Bafta Fellowship at the organisation's annual TV awards ceremony.
The 71-year-old joins previous recipients such as comedian Dawn French, Julie Walters, David Attenborough and her Absolutely Fabulous co-star, Jennifer Saunders.
The Fellowship is considered to be the British Academy of Film and Television Arts' highest accolade, recognising an individual's contribution to a genre across their career.
Joanna, best known for playing Patsy Stone, one half of the champagne-sipping, chain-smoking duo in Absolutely Fabulous, has enjoyed a career spanning more than 40 years.
She said: "Nothing could make me prouder or happier than being awarded this phenomenal honour. To be counted amongst the greatest talents and stars of our industry is an awesome gift: the Bafta Fellowship is the grandest and most unexpected prize I have ever had the joy of receiving."
She was awarded an OBE in 1995 and her other career highlights include her role as Purdey in The New Avengers, which propelled her to fame.
Bafta chairwoman Jane Lush said: "From high-kicking her way into our hearts as Purdey in The New Avengers to showcasing her enviable comedic credentials with her portrayal of Patsy Stone in Absolutely Fabulous, Joanna Lumley is a true icon of television, and so I am truly delighted that Bafta will be honouring her with the Fellowship this year, the highest honour that the Academy bestows."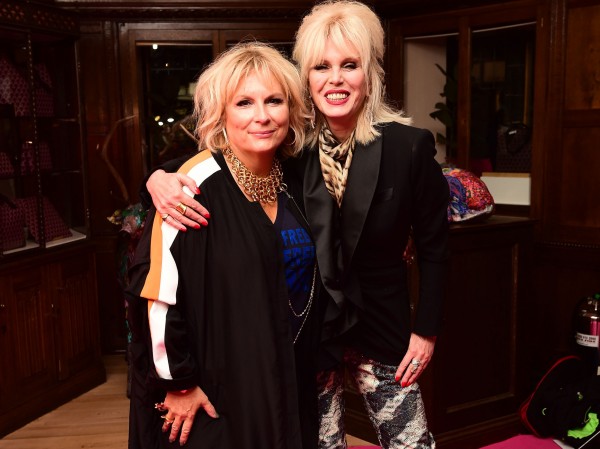 A familiar face to the Academy, Joanna already has two Baftas under her belt for her performance in Absolutely Fabulous, and in 2000 she claimed the Special Award for her work in The New Avengers.
But despite her success in the sitcom and last year's big screen adaptation, Absolutely Fabulous: The Movie, she recently said that modern political correctness meant the show had come to a natural end.
She said: "The world's a bit funny now, it's gone a bit strange, it's a bit harder to parody.
"Because so much of the world right now is so grim, and hard and fearful, and people so take affront at everything."
The Virgin TV British Academy Television Awards will be hosted by Sue Perkins at the Royal Festival Hall in London on May 14.