JK Rowling said she was "overwhelmed" as she was honoured for her contribution to the book trade at the British Book Awards.
The Harry Potter author was presented with the accolade Bookseller's Association Outstanding Contribution prize, and said she was "thrilled".
She added: "Twenty years ago, I would hardly have believed I'd have a book published, let alone an accolade as wonderful as this.
"I am truly honoured and overwhelmed.
"But tonight is really all about you, the booksellers, without whom of course there would be no bestsellers.
"I want to thank you all for supporting my books throughout the years – this award is really for you! Thank you!"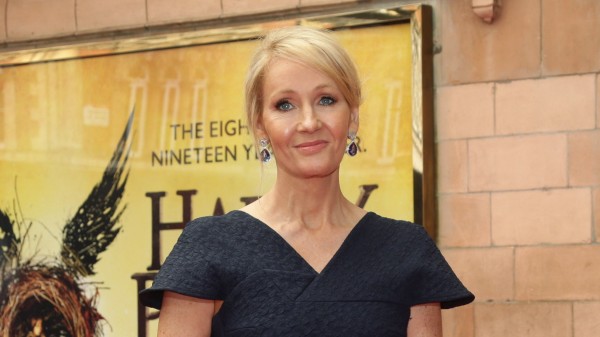 Every year that JK has released a new tale about the boy wizard, the book market has grown.
In 2007, Deathly Hallows took the sector to an all-time high of £1.79 billion.
The ceremony also saw winners named in six categories: Fiction, Debut Fiction, Non-Fiction: Narrative, Non-Fiction: Lifestyle, Children's and Crime and Thriller.
Word of mouth sensation The Essex Serpent, by Sarah Perry, clinched the Fiction Book of the Year award and also beat all other category winners to be win overall Book of the Year.
The 1890s-set gothic tale, inspired by a local legend in Perry's native Essex, beat off stiff competition from a diverse range of works including Man Booker Prize winner The Sellout by Paul Beatty and Days Without End by Sebastian Barry.
Author Cathy Rentzenbrink, chair of the judges, said: "The Essex Serpent is a joyous and beguiling novel that made me wish I was a bookseller again so I could press it into the hands of all my customers.
"Luckily, booksellers up and down the land felt the same urge and it has been a delight to see the care and attention lavished on this book by Serpent's Tale reap great dividends.
"The Essex Serpent is a perfect winner of this prize – a stunning book published with both skill and love that engaged the entire industry."
East West Street by Philippe Sands won Non-Fiction: Narrative Book of the Year.
Astronaut Tim Peake triumphed with a win in the Non-Fiction: Lifestyle category for Hello, Is This Planet Earth?, his collection of images of Earth taken from the International Space Station.
The Girl Of Ink And Stars by Kiran Millwood Hargrave won Children's Book of the Year and What Belongs To You by Garth Greenwell took the accolade for the best debut.
Dodgers by Bill Beverly, a coming-of-age debut thriller set in the criminal underworld of the US, won the Crime and Thriller category.
Produced by industry magazine The Bookseller, the British Book Awards (or Nibbies) honour the commercial successes of publishers, authors and bookshops.