Jimmy Kimmel has told fans his newborn son is doing well after open heart surgery, while relaunching his argument about the US healthcare system.
The chat show host last week shared an emotional monologue about his baby Billy's heart defect and emergency operation just days after he was born, during which he made an impassioned plea that all Americans deserve the level of health care given to his infant son.
Upon his return to his show Jimmy Kimmel Live after a week off, he thanked well-wishers before taking aim at the Republican party's recent healthcare repeal.
Jimmy joked, referring to the House of Representatives' approval of the American Health Care Act: "I made an emotional speech that was seen by millions, and as a result of my powerful words on that night, Republicans in Congress had second thoughts about repeal and replace.
"I saved health insurance in the United States of America!"
He added: "What's that? I didn't save it? They voted against it anyway?"
Jimmy dismissed detractors, showing some articles in which he was labelled "elitist".
He jokingly apologised for "saying that children in America should have healthcare".
"It was insensitive, it was offensive, and I hope you can find it in your heart to forgive me," Kimmel said.
On last week's show, Jimmy detailed how Billy's routine birth on April 21 turned frightening when he was diagnosed with a hole in the wall separating the right and left sides of the heart and a blocked pulmonary valve.
He successfully underwent surgery, but will face more operations.
Jimmy called for healthcare for all and for pre-existing conditions to remain covered as provided by the Affordable Care Act passed under President Barack Obama.
"If your baby is going to die and it doesn't have to, it shouldn't matter how much money you make. … Whether you're a Republican or a Democrat or something else, we all agree on that, right?" he said.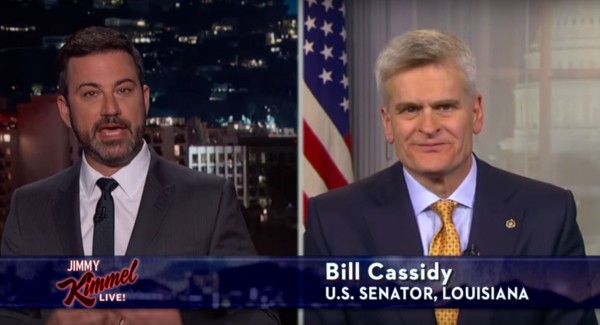 On his return show, the TV star took on Newt Gingrich, former speaker of the House, saying his claim all children would receive the same surgery as Jimmy's son in an emergency fell short of addressing what follows.
Jimmy said: "That's terrific if your baby's health problems are all solved during that one visit.
"The only problem is that never, ever happens. We've had a dozen doctor's appointments since our son had surgery."
The Oscars host also spoke to a current Republican party politician and doctor, senator Bill Cassidy of Louisiana, who had suggested the Senate's upcoming healthcare legislation should have a "Jimmy Kimmel test" of covering pre-existing conditions but in a fiscally conservative way.
Jimmy asked Cassidy about his position on issues including uninsured workers and protection of children under a revised healthcare bill.
The senator called on viewers to contact their representatives and urge support of final legislation that fulfils President Donald Trump's promise to lower premiums combined with coverage that passes the Kimmel standard.
Jimmy called for his namesake test to guarantee no family be denied medical care, emergency or otherwise, because they cannot afford it.
"You're on the right track," Cassidy said, but the country has to be able to pay for it.
"Don't give a huge tax cut to millionaires like me," Jimmy replied.