Like many, Kim Kardashian reacted with shock and horror following Monday's terror attack at Manchester Arena, which killed 22 and injured 59 others, writes Pam Ryan.
The day after, she tweeted: "I can't imagine the fear and agony these parents must be going through searching for their kids."
Later she added: "I'm praying for everyone in Manchester. This is truly so senseless & heart breaking."
However, eagle-eyed Twitter followers of the reality star quickly pointed out that Kim had posted another tweet about the attack at Ariana Grande's concert.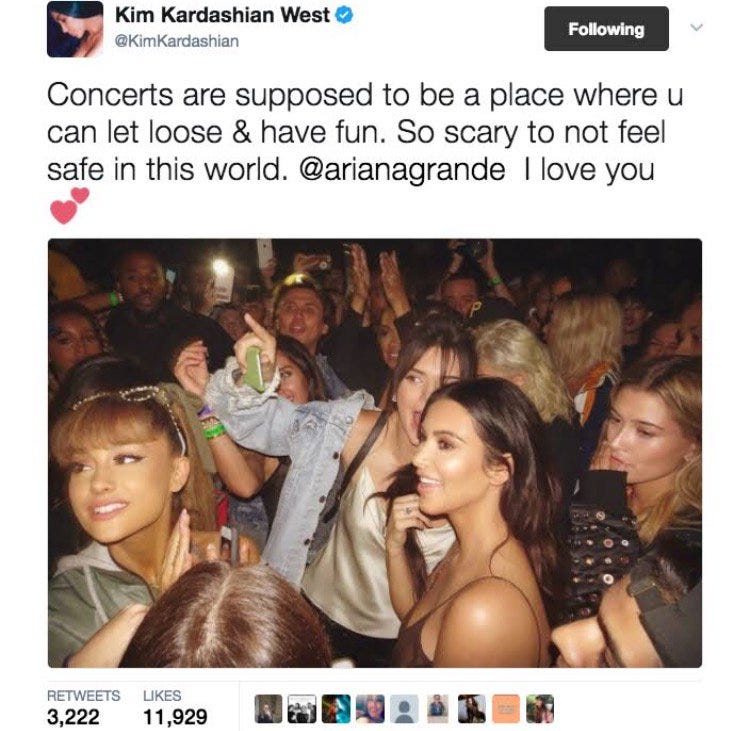 The tweet read: "Concerts are supposed to be a place where u can let loose & have fun. So scary to not feel safe in this world. @arianagrande I love you." The tweet included a photo of Kim with Kendall Jenner and Ariana.
Many were very unhappy about the tweet as they felt the star was making the incident all about herself.
After such a negetaive reception to her sentiment, the tweet was deleted from Kim's account.
She was not the only star who chose to share a message to Ariana and odes to the concert experience. Miley Cyrus posted this to her Instagram:
And many of Ariana's musical peers, including Lorde, Katy Perry and JoJo, mentioned Ariana or repeated the assertion that concerts should be safe and love-filled spaces.
Given the circumstances of the event at Manchester Arena, it is understandable that some would be upset by Kim's tweet. That said, many of her fans came to her defence during the backlash.
Regardless of the intention behind the tweet our thoughts remain with those affected by the terror attack.