Foo Fighters have made a triumphant return to Glastonbury Festival two years after they were forced to pull out because of frontman Dave Grohl's broken leg.
The band played a lengthy set that ran to around two hours and 20 minutes, frequently promising the crowd they intended to keep going until they were forced to leave the Pyramid Stage.
Grohl said: "If you want we can play all night, what's the curfew?
"How about this? You all can stay and dance and have a good time, take a break, come back, we might still be playing.
"Ain't no party like a Foo Fighters party."
Taking festivalgoers on a tour of their hits including Best Of You, Monkey Wrench, Learn To Fly, These Days, My Hero and All My Life, the band were accompanied by chants of "10 more songs" and "three more hours".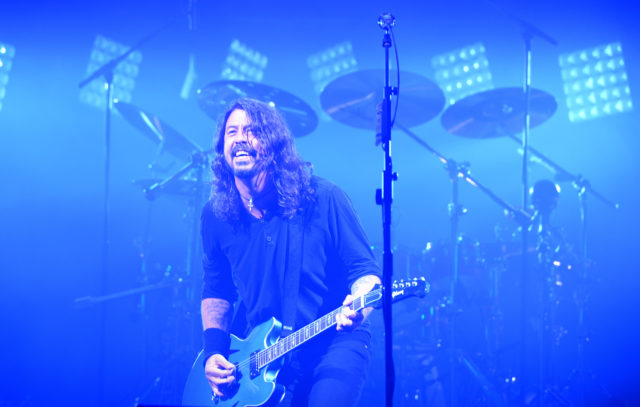 Eventually festival bosses signalled they should wrap up the set at around midnight, seeing them close with Everlong.
Grohl opened by thanking Florence Welch for filling in for them two years ago when he broke his leg.
The group had been due to headline in 2015, but weeks before the performance Grohl broke his leg after falling on stage during a show in Sweden – and they were forced to cancel.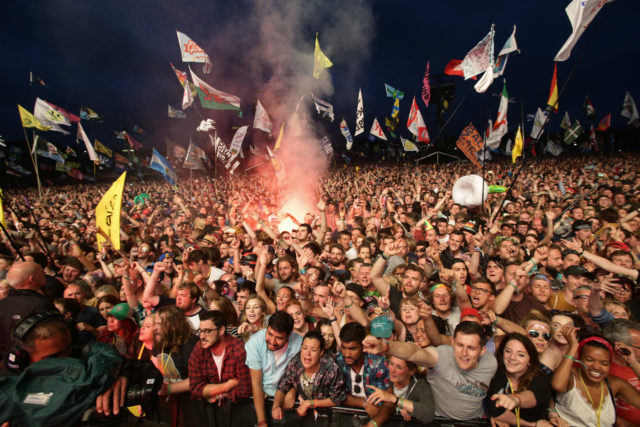 Florence And The Machine were parachuted in as a last-minute replacement and sang Foo Fighters hit Times Like These to mark their absence.
This year, Grohl appeared on stage alone and said: "I'm about two years late, sorry… traffic was a bitch.
"For all of you who were here in 2015, sorry I missed you but I watched that show on my laptop as I was sitting in a wheelchair with a broken leg and it was beautiful.
"My friend Florence got to headline that year and I was very happy because I thought she should have headlined anyway.
"As I was sitting in my wheelchair watching that show on TV and her singing one of our songs, I thought she sounded way better than we ever have.
"So I thought I'd come out tonight singing that song back to Florence."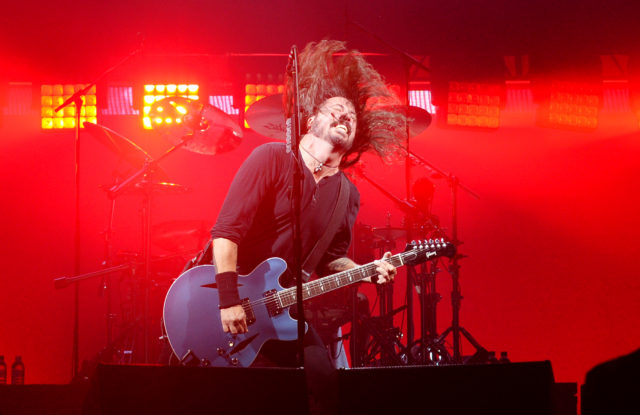 Grohl then began a stripped-back version of Times Like These, before being joined by the rest of the band.
He later joked that his song Walk, which includes the lyrics "learning to walk again", was dedicated to his surgeon.
The set also included drummer Taylor Hawkins swapping places with Grohl to sing Queen's Under Pressure.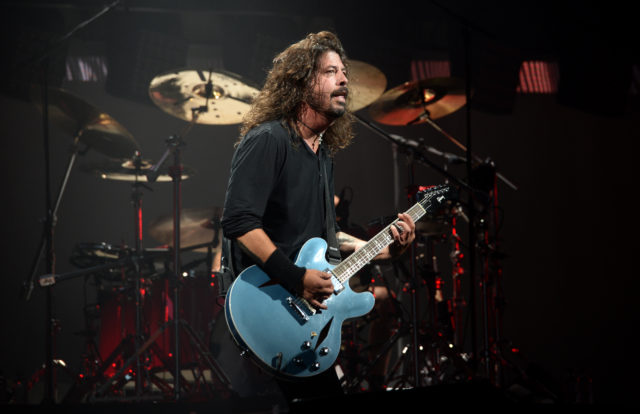 He asked the crowd: "When was the last time you saw Dave Grohl on drums?"
Grohl, known for his sweary interludes, announced that he intended to break Adele's record for the most uses of the F-word at Glastonbury, singing the word until he reckoned he had overtaken the British singer's tally of 33.
Friday night was closed by Radiohead, and Ed Sheeran will be the final act to take the Pyramid Stage on Sunday night.