Drake toppled Adele's record for the most prizes in a single night at the Billboard Music Awards when he was presented with the best artist accolade.
The Canadian rapper won 13 awards, beating Adele's achievement by one, at the ceremony in Las Vegas on Sunday.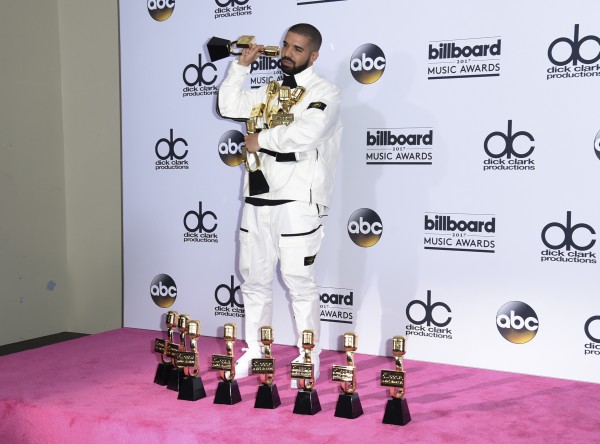 It was a disappointing night for British artists with the only awards coming from Zayn Malik and Coldplay, who triumphed in the categories of best new artist and top rock tour respectively.
Drake, 30, was joined on the stage by around a dozen people, including "love of my life" Nicki Minaj, Lil Wayne and his father wearing a purple suit, after being handed the top award by Prince Michael Jackson, the son of the late singer.
Accepting the top prize, he said: "I just want to say hold tight Adele because when a new ting drops you will crawl your way back to get the record back."
Adele set her felled record in 2012 when she won awards including top artist, top female artist and top pop artist.
Drake also scooped top male artist and top Billboard 200 album for Views after arriving with 22 nominations at the event, regarded as one of the biggest nights for commercial artists in the US.
One Direction's Malik won best new artist but did not collect the prize in person, telling fans he was busy finishing new songs.
The ceremony at the T-Mobile Arena also saw Cher handed an icon award and Audioslave and Soundgarden singer Chris Cornell praised as a "true innovator" after his death at the age of 52 on Thursday.
Ahead of a moment's silence, Dan Reynolds, singer of the rock band Imagine Dragons, paid tribute to Cornell as a "prolific songwriter, a legendary performer, a singer who had a voice for the ages and a philanthropist".
Cher, who turned 71 the day before, said her success was "mostly luck" as she collected the honour from Gwen Stefani.
Most of the categories were decided by song sales over the past year, streaming, radio airplay, touring and social media interactions as tracked by Billboard.