Dozens of people have been treated by paramedics on the hottest ever day of the Glastonbury Festival.
Temperatures at the 900-acre Somerset site reached 30C by 2pm on Wednesday and were expected to rise further during the afternoon.
Before Wednesday, the hottest days at the festival were in 2010 and 1989, when temperatures reached 27.3C.
In those years, revellers were left with heat stroke and exhaustion.
A spokesman for South Western Ambulance Service said 38 people had been treated by paramedics by 2.30pm on Wednesday.
"This is for a range of incidents and not just related to the heat," he added.
However, the spokesman urged those travelling to the festival to wear a hat and sun cream and take plenty of water.
Festival-goers sought shade under trees and enjoyed ice creams to keep cool.
Those at the festival, which will host a population of 200,000, said queues were no longer than previous years, though security was tighter.
Avon and Somerset Police previously warned that extra security checks would take place after the attacks in London and Manchester.
Anna Harris and Georgia Nightingale, both 25, from south London, set off at 1.30am and entered the gates at 8.10am.
Miss Harris, who has attended the festival for the past three years, said: "Security does seem stricter this year, they were checking bags.
"There were some checks but there are so many people and it is so hot. The queues were better than I thought they would be."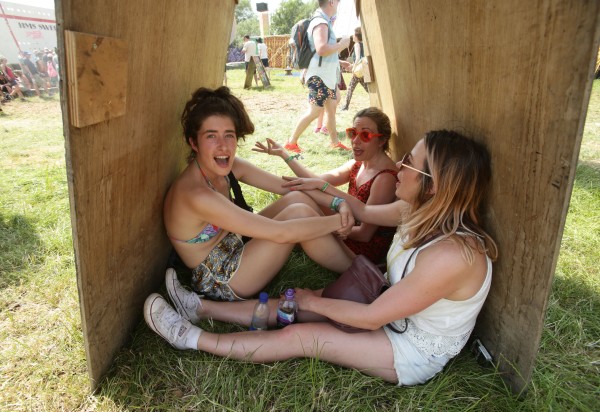 Joe Stacey, 23, from Trowbridge, Wiltshire, set off at 3am.
He said: "Security was much tighter than it usually is. They were searching every single person. The queues were staggered too, we were separated into lines."
His friend Devoney Payne, 22, from Frome, Somerset, said: "Every person had their bag checked.
"There were police dogs and we saw a metal detector."
Police dogs, including springer spaniel EmmyLou, searched bags for explosives or illegal substances.
Billy Swann, 53, left Liverpool at 11pm and walked through the gates at 8.20am.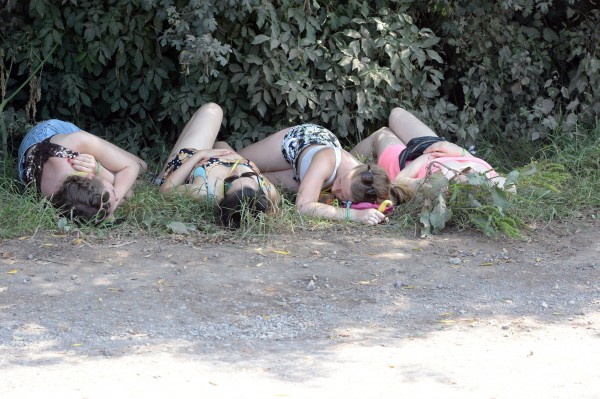 "We queued for four hours in the heat, I'm tired," Mr Swann said.
"Not every bag got checked but I saw police at security."
Colette Perkins, 36, from Birmingham, said the queues were "well organised" – taking just 30 minutes to go through security.
"I thought it was going to be horrendous this year but it has actually been fine," she said.
"They just patted my bags down, they are doing it to everyone."
The festival is being headlined by Radiohead, Foo Fighters and Ed Sheeran.
Hollywood star Johnny Depp will make an appearance, while Labour leader Jeremy Corbyn is due to give a talk and introduce US rap duo Run The Jewels.