Amanda Holden's revealing dress on Britain's Got Talent could spark an Ofcom investigation after the broadcasting watchdog received more than 200 complaints.
The 46-year-old judge walked on stage on Thursday evening wearing a dramatically low-cut gown slashed to the navel, with a cut-out panel that reached down to the small of her back.
Ofcom said it has received 216 complaints.
A spokesman said: "We will assess these complaints before deciding whether or not to investigate."
The judge's outfit choices have turned viewers' heads during semi-finals week and Thursday evening's frock was no exception.
Some viewers felt she may have gone too far with the skimpy choice.
However, other fans did not think the dress was offensive.
Fellow judge David Walliams could not resist making a quip about Amanda's outfit when female Welsh choir Angelicus Celtis were criticised for their middle-of-the-road look, saying: "None of you are wearing a really inappropriate low-cut top."
Amanda's other choices this week have included a see-through skirt with a leotard underneath.
Last year Ofcom decided not to investigate the ITV show after outfits worn by Holden and Alesha Dixon sparked complaints from viewers.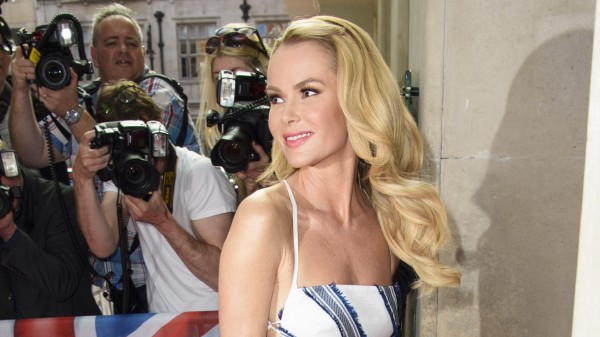 She recently told The Sun on Sunday: "I can't wait to wear my dresses. They are very flattering, very feminine and a few are… what you would expect.
"Will people be complaining to Ofcom? I hope so, I really do. I haven't done my job if they aren't."