The BBC's first ever list of its stars' salaries has revealed that its top earning male personality was paid at least four times as much as its highest-paid female.
The annual report shows that Radio 2 DJ Chris Evans earned between £2,200,000 and £2,249,999, while Strictly Come Dancing co-host Claudia Winkleman, the highest female earner, is ranked in the pay bracket of £450,000-£499,999.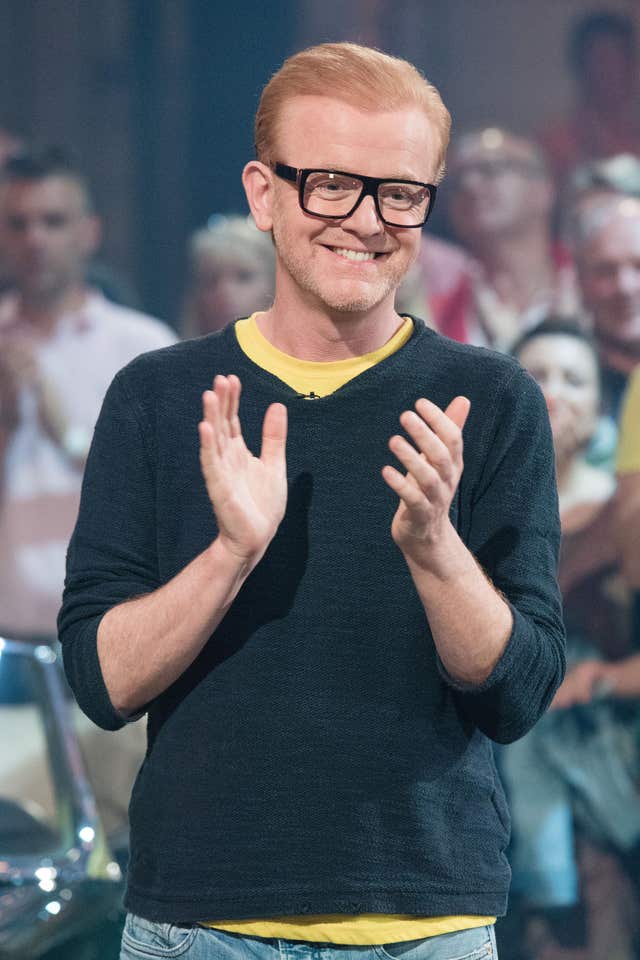 The figures show that only one third of the list of talent earning more than £150,000 are women, with the top names being men as details of stars' pay was revealed in £50,000 bands.
Prime Minister Theresa May voiced her opinion on LBC as she criticised the BBC for paying women less than men for doing the same job and insisted the organisation must continue publishing its top salaries to prove it is tackling the problem.
Mrs May told the radio station it was important the BBC "looks at the whole question of how they pay women and how they pay men for doing the same job"
The BBC has been forced to make the salary disclosures as part of negotiations with the Government for its new royal charter.
Sports pundit and presenter Gary Lineker is the second highest earner, bringing in between £1,750,000-£1,799,999, which is also nearly four times as much as BBC Sport's next highest earner, his Match Of The Day colleague and fellow ex-striker Alan Shearer, who is paid between £400,000-449,000.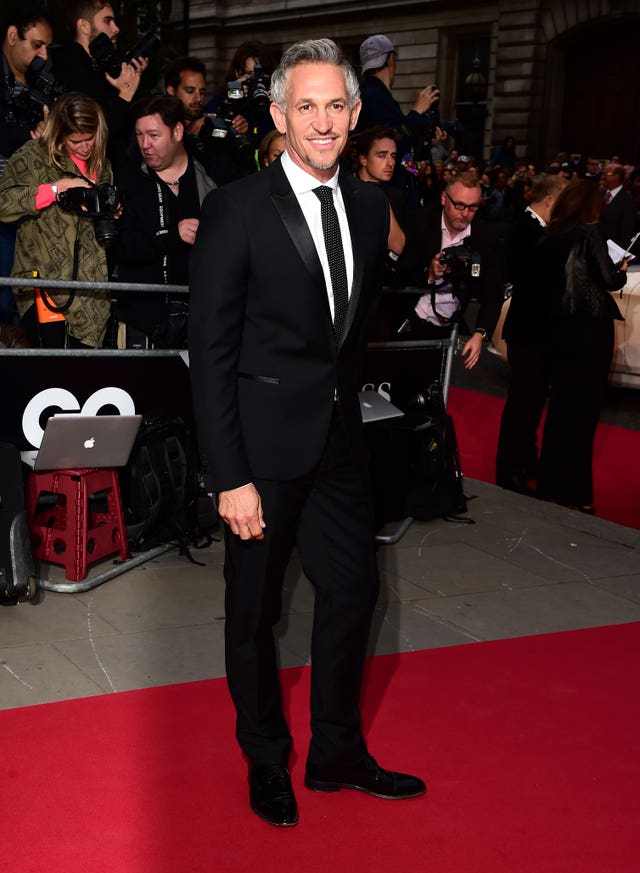 Question Of Sport and tennis presenter Sue Barker is the best-paid woman at BBC Sport, earning between £300,000-£349,999.
The top 10 on the list of 96 talent includes just two women, Radio 2 host Winkleman (£450,000-£499,999) and The One Show presenter Alex Jones (£400,000-£449,999).
Speaking at a press conference to launch the annual report, BBC Director-General Lord Hall defended Evans' pay.
"Chris Evans is presenting the most popular show on the most popular radio network in Europe," Lord Hall said.
"We do know that, for a number of presenters, they have been made offers by commercial radio.
"We've lost people…. to Amazon and to other big players … Also, the choice for some of our talent is to go and do something completely different because they're entertainers … that is the market we're dealing with."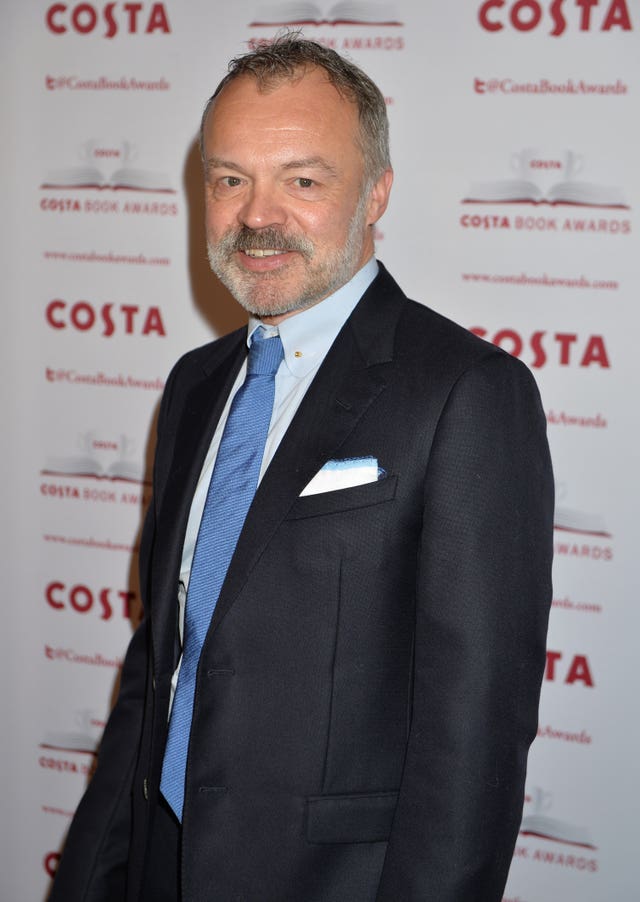 However, stars such as Lineker could face significant pay cuts if Jeremy Corbyn becomes prime minister, a Labour source indicated.
The source confirmed that Labour's promise of a maximum 20 to one ratio between the highest and lowest paid staff in public sector organisations would apply to those directly employed by the BBC.
Conservative former minister Anna Soubry told Radio 5 Live it was "a disgrace" that the BBC was required to disclose salaries and she could not defend Tory policy on the issue.
Graham Norton is listed as earning between £850,000 and £899,999 – but as the list only includes cash from licence fee payers, that does not include his chat show, for which the BBC pays an independent production company, which in turn pays his salary.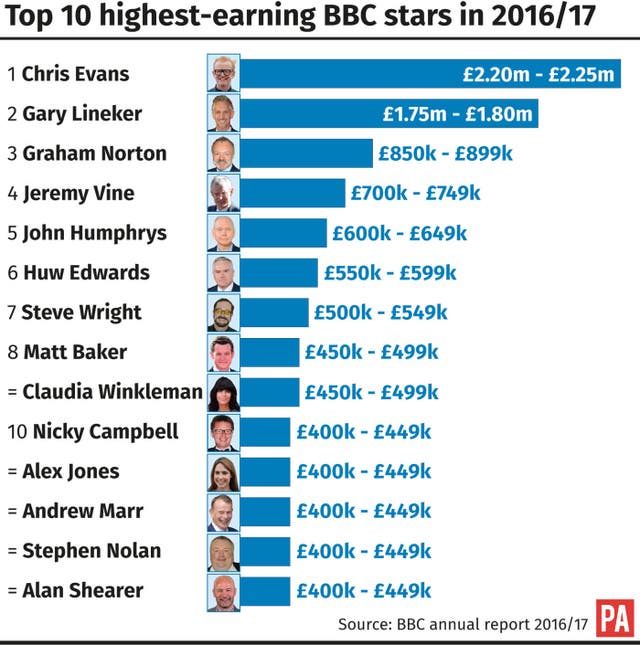 An ethnicity breakdown of the report also shows that the majority of top earning talent are white and only 11 people earning more than £150,000 are non-white. This means that, of the 96 names on the list of those who earn more than £150,000, 88.5% are white.
Lord Hall addressed the issue saying the corporation needed to "achieve the right balance when it comes to Bame (black, Asian and minority ethnic) talent".
Casualty star Derek Thompson, who has played Charlie Fairhead in the long-running medical drama, topped the list of highest earning actors with a pay bracket of between £350,000 and £399,000.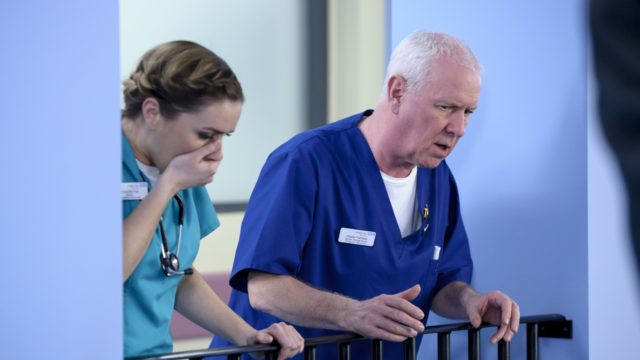 Long-time EastEnders cast member Adam Woodyatt, who plays Ian Beale, is one of the BBC One soap's top paid members at £200,000 to £249,000, along with newer recruit Danny Dyer (Mick Carter).
Top Gear's Matt LeBlanc is not on the list but it has not been disclosed whether he is paid £150,000 or more but from BBC Worldwide.
Lineker poked fun at the salary reveal on Twitter, writing: "This whole BBC salary exposure business is an absolute outrage…I mean how can @achrisevans be on more than me?"
BBC presenter Andrew Marr defended his £400,000-a-year salary, claiming he has turned down higher offers from the broadcaster's rivals.