More than 20 couples will take part in ancient handfasting ceremonies at Glastonbury Festival to bind themselves together.
During the ceremony, on the site's Healing Field, the couple's hands are tied together using a special cord – literally "tying the knot".
The handfasting, which is not a legal marriage, is followed by the couple jumping over a broomstick then sharing cake and ale.
Glenda Procter, the festival's official celebrant, performs the ceremonies with her twin sister Jane Tovey, during the afternoon.
All 21 slots have been pre-booked – featuring people on their honeymoon, celebrating anniversaries and one surprise engagement.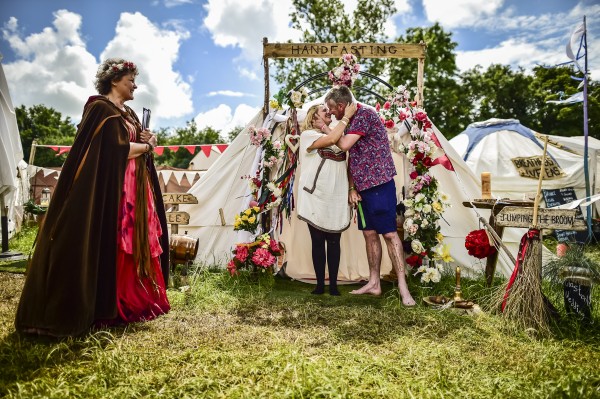 Procter, 65, performs the ceremonies wearing a cloak she made for her own wedding to husband John in November 1977.
"It is so romantic – I will end up in tears," Procter, who has been handfasting at Glastonbury Festival for five years, said.
"Couples choose their own cords and it is a joy to see what they bring – one couple created theirs with old Glastonbury Festival bands.
"The cords have to be at least 1.5 metres, so it used a lot of bands. For many couples, the fact they are having a handfasting at Glastonbury is hugely significant.
"I can't begin to persuade them to have it in their back garden or by a river bank – it has to be Glastonbury. It is where many couples met, not to have it at Glastonbury isn't an option for many."
Couples bring their own cord, cake and "ale" – which can be any drink – and pay a donation to Procter for their 35-minute ceremony.
Some will come with professional photographers and an entourage of guests, while others will attend alone.
"Last year I had a couple who had married legally at the town hall in Glastonbury and came to the festival on their honeymoon," Procter said.
The ceremony takes place within a "no wellies" zone, cordoned off with white rope.
Handfasting has grown in popularity in recent years, thanks in part to being featured in hit TV series Game Of Thrones, she added.
The tradition dates back centuries to the Celts and is one of the oldest marriage rituals.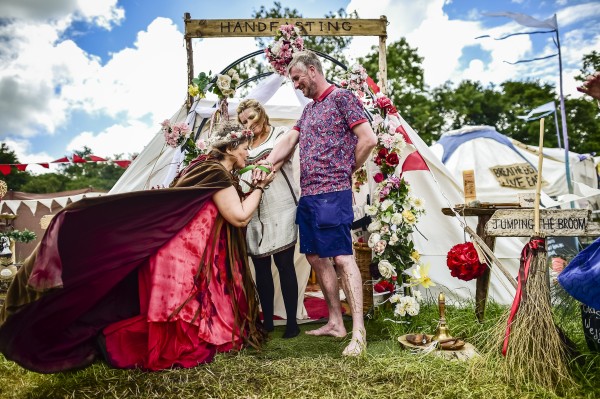 More than 40 couples asked to have the ceremony at the festival this year, with Procter fully booked by January.
Next year is a fallow year but Procter, who runs Cloud9 Ceremonies, will hold ceremonies in the Stone Circle.