When Kevin DeJesus-Jones was planning to propose to his board game-loving girlfriend, he knew he wanted to do something special.
So what could be better than putting together a custom version of Kristin's favourite game, Monopoly, and using that?
The 29-year-old, who lives between Philadelphia and New York, spent around six weeks designing and putting the thing together, replacing the squares on a traditional Monopoly board with places and things that were meaningful to their relationship.
"The University of Miami is one, that's where we first met," Kevin said. "The Drowsy Chaperone is another, that's the show we were working on together when we first started dating – we're both actors.
"There are also a lot of restaurants we love and places we like to go, as well as theatre groups and shows we've worked for. I was in Spider-Man: Turn Off The Dark on Broadway and that show has a space."
Having renovated a house with Kristin, Kevin was no stranger to woodwork but admitted putting the board together was "a bit more intricate" than what he'd done previously.
He constructed the board out of red oak and birch plywood, putting in a special secret compartment – under the "luxury tax" square – in which to hide the engagement ring.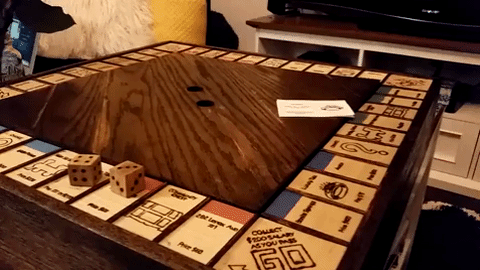 When it was ready, he invited a bunch of friends over to witness the moment.
"As soon as she came up the driveway and saw all of our friends there she started crying," Kevin said.
"We didn't play a game, we played only a turn. She rolled the trick dice that I also made, one of which was all fours and the other all threes, so she rolled a seven and went to chance.
"The chance card led her to the secret compartment where she found the ring."
As for her reaction? "She was thrilled," Kevin said.
Kevin, who took inspiration from a similar project he saw online a few years ago, said he didn't think the Monopoly theme would carry forward into the wedding itself.
"Possibly Monopoly-themed wedding invitations, but no more than that," he said. "There certainly will be games at our wedding though. Kristin and I love games of all varieties."
- Press Association