The sun is shining, the snow is melting and we can finally see the beginning to the "fine stretch in the evenings" but what else is making us happy today?
From the big ones to the little ones, your kids have been making you very happy.
Caroline O'Grady received "best wake up call for 2015" from her son in Austraila, while Sorcha Anderson's seven month old is trying her best to crawl but keeps going backwards.
Edel Mhic Mhathuna's son's wild imagination has had us in stitches all day.
The seven-year-old was on his way to school when he asked his dad "Are you thinking what I am thinking?"
"I don't know son, what are you thinking?" Edel's husband replied.
"I'm wishing there was a tiny monkey dancing in my hand right now"
Well let's hope it's doing a gig if one appears soon!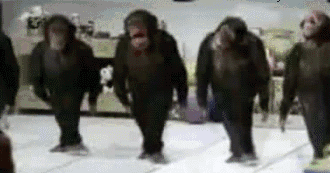 Denis Mc Auliffe's two-year-old has decided that it's Friday and he should take her "to the shop for treats" while Aimee Weller has had a busy morning building a blanket house for her little girls.
Sarah Dowdall emailed us with this adorable picture and tell us that she's off down the park to make the most of the sun.
A massive gold star for Deirdre Lennon Herbert's little boy as he continues to make everyone laugh while he his battling cancer. Get well soon little man and keep smiling!
Sharlene Rocca treated herself this morning to these amazing looking pancakes - which we've been craving all day.
Thanks Sharlene!
Grainne Roche is just happy that her "Friday email" she send internally in work will be sent and "everyone will have a happy Friday".
Her colleague Ruth even commented, thanking Grainne.
"I love getting your Friday emails on Mondays ( ie I don't work Fridays), they always make me smile. And I love how you always include any new staff. Thanks Grainne Roche : )"
You're our kind of person Grainne.
Now didn't that put a smile on your face?
It did the trick for Amy Donnelly and Pam O'Hara.
"Smiling reading everybody comments.. Very positive and very happy people.. #keepsmiling it's a beautiful thing!!"
"Thanku all who commented here for making me smile broadly!! Xx"
Our winners this week are… Caroline O'Grady, Sarah Dowdall, Grainne Roche and Deirdre Lennon Herbert.
Congratulations!
Don't forget to anna.odonoghue@breakingnews.ie to claim your prizes.