Remember back at the beginning of lockdown, when not having to put on make-up every day was a relief?
When you spent those precious extra minutes under the duvet in the morning, and relished how quickly you could get ready for bed, because you didn't have to double cleanse your face and scrub off all that mascara?
At first, going foundation-free was fun, but now, three months since lockdown began, we've come full circle and we're actually dying to have a reason to get dolled up again, even if it means sacrificing sleep and spending longer on skincare at the end of the day.
At least hair salons will soon be open and we can get our glam fix with a fresh cut and blow dry.
In the meantime, here are seven reasons we're really missing wearing make-up…
1. Make-up camouflages your complexion
Is there anything more satisfying than spritzing setting spray over a perfectly blended base and surveying your handy work in the mirror?
Foundation erases a multitude of sins, from dark circles to spots to uneven skin tone, but what's the point of putting it on when the only thing you've got in your diary is Zoom calls, and half your face is covered with a mask when you go outside?
2. It makes you look more awake
The ultimate eye-opener, mascara instantly transforms you from weary to wide-awake. Add to that concealer and brow gel, and you're looking fresh-faced in no time.
Every time we start a Zoom call, we instantly regret not running to the bathroom and at least adding a quick coat of mascara.
3. It makes you feel good
If you're having a bad hair day or just feeling a bit meh, putting on a slick of bright lippy or a swirl of cream blusher can give you the confidence boost you need to lift your mood.
And the feeling you get when you finally master a tricky technique like winged eyeliner? It's pure joy.
4. It's fun
Who doesn't love unboxing a brand new palette and playing around with all the different shades to create a glam smoky-eye look, or experimenting with combinations of lipstick and eyeshadow to find the perfect pairing?
As well as a way to enhance our looks, make-up can be a fun, creative outlet.
5. It's relaxing
It's a shame that during lockdown, when we've got more time to spend on our make-up, we have less reason to wear it.
There's something so relaxing about slowly going through your routine, concentrating carefully on brushing, blending, lining and perfecting your look. When you think about it, applying make-up is a bit like mindfulness meditation.
6. It's part of a big night out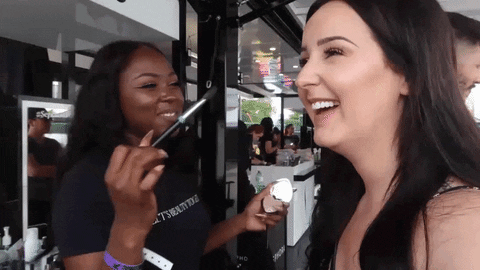 Half the fun of a night out with your girl gang is getting ready – gathering at one person's house to plan your outfits, drink wine, dance around to Beyonce and, of course, put on your make-up.
We never thought we'd say this, but we even miss how messy the bathroom gets when lip glosses are strewn on every surface, because we couldn't decide which would go best with our new dress.
7. It's a sign of normality
Ultimately, if we were adorning our faces more regularly, it would mean normal life had resumed, but we still don't know when we'll get back to the days of glamming up and going out.
One thing's for sure: when lockdown is over, we're going be wearing a LOT more make-up.