Whether it's work meetings, catching up with loved ones or even having a digital date night with your other half, video calls have become part of daily life during lockdown.
With so many people working from home and socialising opportunities at a minimum, many are choosing not to bother with a full face of make-up each day, which we wholeheartedly applaud – it's a great time-saver and your complexion will thank you in the long run.
But when it comes to logging onto Zoom or Skype, sometimes you don't appear as fresh-faced on screen as you look in the mirror, or you might want to make a bit of extra effort for an important meeting or presentation.
That doesn't mean you need to revert to your pre-lockdown make-up routine, however. With a few tech tips and some easy beauty hacks, you can be camera-ready in minutes.
Here, experts share six simple ways to make sure you look your best on video calls…
1. Elevate your camera angle
"Your appearance could easily be improved by elevating the angle of your camera," says cosmetic surgeon Mr Ian Morgan of Soul Care Aesthetics, who reports a 32% increase in calls during lockdown from people wanted to improve their appearance.
"If it's placed below eye-level, you may find dark circles and double chins are enhanced, so move your camera to sit at eye-level or above, to slim down the face."
Prop up your phone or laptop on something like a sturdy box or stack of cookery books and see what a difference it makes.
2. Level up your lighting
"Make sure your face is lit from the front, as this will highlight and enhance the skin, giving you a clearer, more even skin tone," Morgan says.
Sit facing a window if you're on a call during the day, or position a lamp close by at night. If you're really keen, you can buy a 'ring light' on a tripod, the kind beauty vloggers use to create their make-up tutorials, which provides an ultra-flattering glow.
"Before the call, check your camera to see what your face looks like on screen," says Ana Lazovski, make-up artist from Code8. "Sometimes applications have already installed a softer filter, meaning you do not want to apply more make-up."
3. Prep and prime
"For the time-poor moments when you receive a Zoom diary invite with five minutes notice, the three areas you should focus are the eyes, cheeks and lips, to avoid looking washed out due to poor camera lighting," says Boots beauty specialist Charlotte Horne.
"Now is the time you can get away with not wearing foundation. However, skin can often look quite dull on screen, so a hydrating moisturiser and good primer will do the trick in perking it up.
"A primer that will help mattify your skin will avoid it looking too shiny on screen and keep you going all day long."
4. Define your eyes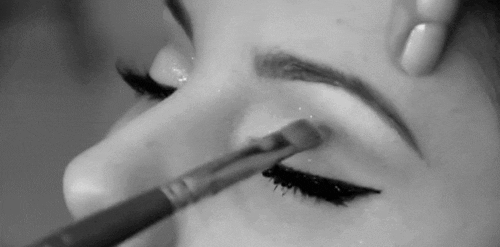 "Definition around the eyes is key for looking fresh on screen," Horne says, but that doesn't mean you have to spend hours creating an elaborate smoky-eye.
"For an easy eyeshadow look, you can sweep your bronzer, blusher or highlighter across your eye lids – perfect for last-minute calls."
"Go for something soft and earthy," says Lazovski. "Not too sparkly, too dark, or too vivid, as this can appear cakey on camera and can make your eyes look sunken if your lighting isn't quite right."
Then complete the look with mascara, she says: "With just a few layers of application, your eyes will instantly look bigger and brighter."
5. Warm up your complexion
"Bronzer and blusher will be your best friend for Zoom calls, as on camera you can often look 'flat'," Horne says.
"Apply your bronzer or blusher where the sun would naturally warm up your skin – forehead, nose and cheeks.
"You could even add some highlighter across your cheekbones and bridge of your nose, the lighting for your laptop or phone screen will catch the light of the highlighter and make it work harder."
6. Make your pout pop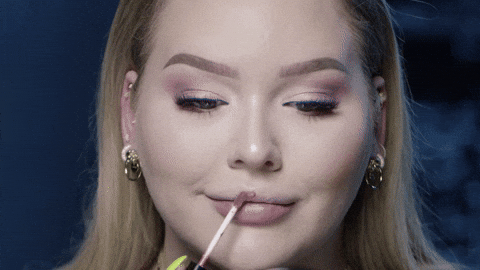 To pull your look together, define your lips with a pop of colour – a bold red or pink shade is ideal for maximum glam in no time at all.
"Or, if you prefer a more natural look, try a bit of lip liner and lip balm," Horne says. "This will add definition and keep your lips hydrated."
[readmore]1006023[/reamdmore]