As Noel Coward's 1930s hit goes, 'Mad dogs and Englishmen go out in the midday sun', but that's exactly what the Brits and the Irish have been warned not to do as temperatures soar in the Mediterranean.
The dangerous heatwave, dubbed Lucifer by the Italians, is set to affect 11 countries, including Spain, Italy and Croatia, with the mercury topping 40C and temperatures as high as 43C in the popular British holiday destination, the Costa del Sol.
In the Italian cities of Venice, Rome, Florence and Verona, a 'red alarm' has been issued, the highest level of threat from the heat – with risk of heat exhaustion, which includes headaches, feeling and being sick and muscle cramps and the more severe symptoms of heatstroke, including confusion, disorientation, fits and loss of consciousness.
So if you're heading to the Med this weekend, here's how you can keep cool in the heat…
1. Keep hydrated
When we sweat out more fluid than we take in, our bodies can become dehydrated, with symptoms to watch out for including dizziness or light-headedness, tiredness, dry mouth or lips and passing small amounts of urine infrequently.
"With the exceptionally hot temperatures arriving in the Mediterranean this week, you should consume fluid at regular intervals throughout the day and evening, taking care to limit exposure to the hot sun, especially in the middle of the day," says Dr Emma Derbyshire, public health nutritionist and adviser to the Natural Hydration Council.
"Public Health England's Eatwell Guide recommends drinking 6-8 glasses of fluid per day. Water is one of the healthiest ways to hydrate, as it doesn't contain sugar, calories or additives. Make sure you always have access to water, particularly when you're out and about."
Dr Roger Henderson adds: "Dehydration can be dangerous, particularly for children and elderly people, as the loss of both water and essential minerals can prevent the body from functioning normally and causing potentially serious or even fatal complications."
Besides water, he recommends using an oral rehydration sachet, such as Dioralyte, "to replace lost sugar and salts to help your body re-establish the right balance of body fluids".
2. Avoid alcohol
A beer or glass of cool white wine at lunch might be what holidays are all about, but they'll only dehydrate you. If you are drinking, make sure alcohol is balanced with plenty of non-alcoholic drinks, such as water, adds Dr Derbyshire.
"Urine colour is a useful indicator to monitor hydration status. This should be pale straw colour. Dark yellow, concentrated urine or a low urine output is a sign that you need to drink more water."
Don't overdo the booze at night either, as you won't sleep so well, says Sealy's sleep expert Neil Robinson: "Stay away from the drink to heighten your chances of sleep during a heat wave."
3. Stay in the shade and cover up
"Stay out of that midday sun – it's too strong, especially for children," says Sarah Booth, in-store nurse at Superdrug Sheffield. "From the hours of 11am – 3pm stay in the shade. And remember babies under 9 months should always stay out of the sun.
"Always wear high factor sun protection such as factor 50, reapply regularly, especially on children who are in and out of the water and drying off with a towel, and regularly check how much you're putting on – most people don't use enough sun protection."
Go for full-length swim suits for children, so they're more covered up – and always wear a hat.
4. Pack a multitasking shirt
Dawn Cutler, founder of fashion and beauty blog The Posh Rock says: "Everyone going on holiday wants to dress up and look their best but, in 40+ degree heat, this can often end in a sweaty mess – along with flyaway hair and lots of smudged mascara!
"Fashion-wise, I like to lean towards light colours and fabrics. This summer, I've been in love with shirt dresses which are great for wearing over a bikini in a 'this-is-my-boyfriend's-shirt-that-I-just-threw-on' sort of way. They're just as easy to dress up, adding a pair of heels and some statement jewellery for sunset cocktails. A low-slung bun is also stylish but keeps long hair off your neck for maximum cool points."
5. Ditch the curries and go for gazpacho
When in Spain… eat like the Spanish. Gazpacho is a tasty cold tomato soup, which will not only help cool you down, it will boost your 5-a-day intake and add to your fluid intake.
"Remember that water-containing foods can contribute to your daily water intake, for example yoghurt, soups, stews, fruit and vegetables," says Dr Derbyshire.
Dr Henderson adds: "Avoid foods which cause sweating such as curries."
6. Cool your sheets
The heat's not only unbearable during the day – it can make it impossible to sleep at night. Research for Sealy found that 42% of us regularly wake up hot due to the muggy, oppressive heat.
If you're staying in self-catering accommodation or have a mini bar in the hotel room, try popping your sheets in the fridge before you go to bed to cool them down.
"This may sound a little extreme, but throwing your bedding in the fridge/freezer for 10 minutes gives much needed relief to the heat," says Neil. "Just make sure your fridge is clean, bed sheets and butter don't work! If you're pushed for space, then just cool your pillow case."
7. Switch your make-up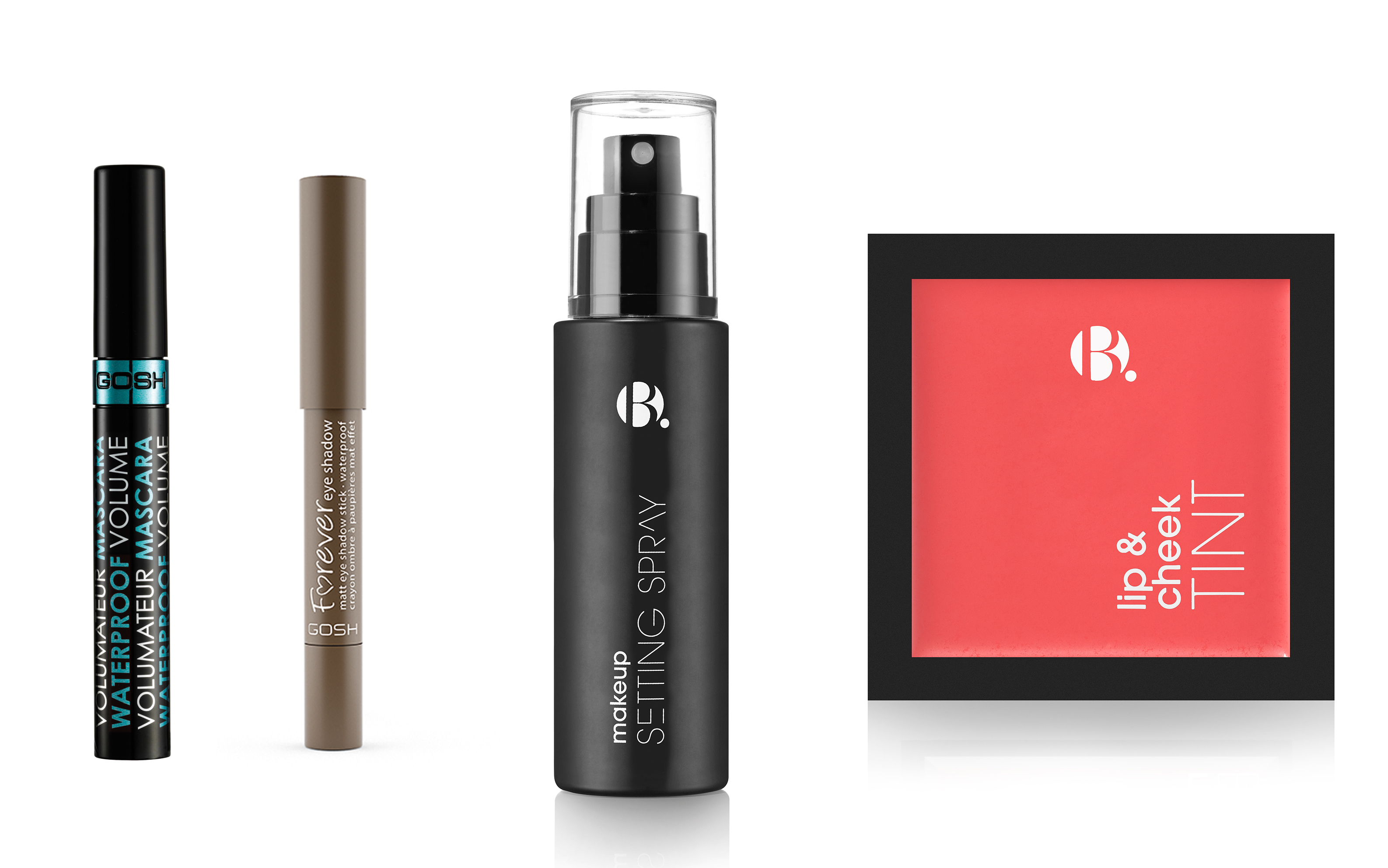 Making some subtle changes to your holiday make-up bag can help keep your make-up in place for longer, says Sarah Gardner, Superdrug's head of beauty.
"When the heat is on, but you don't want to ditch all your make-up, switch to a cream formula which will have more staying power on the skin. Using B. Lip & Cheek Tint (£6.99, from Superdrug) to smudge across the lip and cheek will give a natural flush of colour without looking too heavy."
"If you want to keep a full face of make-up in the heat then start with a primer and then finish with a make-up setting spray (like B. Make-up Setting Spray, £6.99). Try and use powder with a light touch so it doesn't become cakey in the heat and when you're out in the sun wear a hat with a wide brim to help stop makeup melting in the full glare on the sun!"
"Even if you're not planning on heading into the water switch to a waterproof mascara (try GOSH Waterproof Mascara, £7.49) when the heat is on, other waterproof formulations such as brow creams and eye shadows (like GOSH Forever Eye Shadow, £6.29) will stay in place when it's hot long after other products have slipped away."
8. Dip your feet
Another one for helping you sleep at night: "Position a bucket of cool water next to your bed, and dip your foot in it while you drift off. It can help cool down the rest of your body," says Neil.
The same rule obviously applies to cooling yourself down during the day – going for a paddle in a stream, swimming pool or the sea will instantly cool you down. After a siesta or before getting into bed, a cold shower will work wonders.
9. Cold press your pulse points
"The pulse points on your body can cool the rest of you effectively," says Neil. "Place a cold flannel or ice cubes in a plastic bag on your wrists and neck and you'll be surprised by the how well they work."
10. Think cold thoughts
If you've tried lots of ways to get to sleep in the heatwave, but still can't, Neil recommends this as last-ditch solution: "Think of a cool spring, a glacier, an ice cream. Who knows, it just might work."